Home
About Us
FAQ
Privacy Policy
Contact Us
Books
DVDs
VHS
Charts
Audio Books
General Information
Secure Order Form
Mail & Fax Orders
Shipping Rates

Mastercard
Visa, Discover
* * *
Phone Toll Free:
1-877-577-8743
within U.S.A.
* * *
International
1-336-246-2663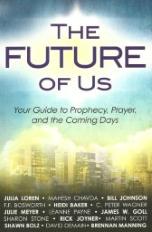 THE FUTURE OF US
Your Guide to Prophecy, Prayer, and the Coming Days

Julia Loren, 2014


Sale $14.95
Retail $15.99
Ships within
24 hours!


Everyone wants to know what is going on in the world today. A pure desire to see the future often sends seekers into some dark places. Instead, The Future of Us reveals the vivid portrait that God is painting through the words of His messengers—the prophets. The future is not written in the stars—it is safely hidden in God's heart. Receive this fresh word for the church, featuring timely insights from respected prophets who are hearing the secrets hidden in God's heart. The future is not hidden from you—it is hidden for you! The mysteries of the Kingdom were always meant to be discovered by God's people. Start shaping your future by remaining intimate with the Father. The future is your opportunity to transform your world through greater love and ministry impact! Take your place in history, experience God's heartbeat for the world, and shape the future by bringing His purposes to pass in your generation.

---
TABLE OF CONTENTS
Book Disclaimer
Introduction
Part 1: Prophetic Warnings of Disasters to Come
Once in a Blue Moon: Prophetic Words about Natural Disasters Julia Loren (writing about John Paul Jackson, Larry Randolph, Terry Bennett, and Bob Jones)
Disaster! Thirty Days and Counting
Julia Loren
Practical Preparation for the Days Ahead
Julia Loren

Part 2: Prophetic Promises Around the World

The Start of the Fourth Wave
James W. Goll
A Decade of Realignment
Martin Scott
A Field of Dreams or Nightmares?
Rick Joyner
The Coming Outpouring in Europe
Julia Loren
Preparing the Atmosphere in the Nations
Sharon Stone
The Road from Asia to Jerusalem
David Demian with Stephanie Muzyka
The Great, Greater Awakening
Julie Meyer
The Prophesied Hour of a Holy Generation
Shawn Bolz

Part 3: How to Change the World

Your Role in the Days to Come
Julia Loren,
The America of Tomorrow: How Shall We Pray?
C. Peter Wagner
Six Prayers that Change the World
Julia Loren, with Bill Johnson, Heidi Baker, Brennan Manning, F.F. Bosworth, Mahesh Chavda, and Leanne Payne
---
AUTHOR PROFILE
Julia Loren is the author of more than a dozen prophetic books calling the Church to greater love and anointing in the days ahead. She is also a Life Coach whose speaking ministry reaches out globally to help individuals reach their sacred destiny and higher levels of joy.

---
BOOK SPECIFICATIONS
218 pages, paper.
ISBN: 9780768403367