Home
About Us
FAQ
Privacy Policy
Contact Us
Books
DVDs
VHS
Charts
Audio Books
General Information
Secure Order Form
Mail & Fax Orders
Shipping Rates

Mastercard
Visa, Discover
* * *
Phone Toll Free:
1-877-577-8743
within U.S.A.
* * *
International
1-336-246-2663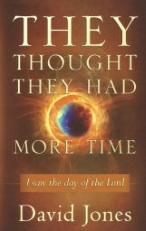 THEY THOUGHT THEY HAD MORE TIME
I saw the day of the Lord

David Jones, 2014


$14.95
Retail $15.99
Ships within
24 hours!


David Jones received a vision that changed his life forever. It was as if someone gripped him by the arm and shook him awake. In an instant, he was hovering above the earth. Beautiful clear skies. Mountains and hills adorning the landscape below. People were continuing with business as usual, until thick clouds consumed the sky. Darkness fell. Silence covered the earth. Then, a deafening sound broke through the heavens and pierced every ear that heard it. Terror gripped the people, as they realized the Day of the Lord was not a fable. It had come and they had run out of time. As you experience this vision for yourself, Jonesí book will:
Empower you to live every moment with eternal significance.
Teach how to prepare for the end times.
Show you how to get right with God.
---
TABLE OF CONTENTS
Foreword by Bishop Dwight Pate
I Saw the Day of the Lord
PART I: THE DAY OF THE LORD
A Serious Change of Ministry
The Absolute Certainty of These Things
What Does a Warning from God Mean?

PART II: FROM THE PIT TO THE PULPIT

A Very Troubled Childhood
God's Early Dealings with My Life
God Has Ways to Get Our Attention

PART III: GETTING READY

The Day of the Lord Is Coming
Things That Prevent Us from Being Ready
How to Get Your Heart Right with God
Epilogue

---
AUTHOR PROFILE
David Jones is a praise & worship leader, author, visionary, father and a preacher who has served in ministries for over 25 years, 10 of those years pastoring a church. In 2012, God moved the ministry. David now resides with his wife and three children in North Carolina.

---
BOOK SPECIFICATIONS
172 pages, paperback.
ISBN 9780768403213