Home
About Us
FAQ
Privacy Policy
Contact Us
Books
DVDs
VHS
Charts
Audio Books
General Information
Secure Order Form
Mail & Fax Orders
Shipping Rates

Mastercard
Visa, Discover
* * *
Phone Toll Free:
1-877-577-8743
within U.S.A.
* * *
International
1-336-246-2663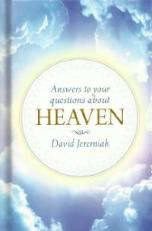 ANSWERS TO YOUR QUESTIONS ABOUT HEAVEN

David Jeremiah, 2013, 2015


$9.95
Temporarily
Out of Stock


We all have questions about what heaven will be like. Fortunately, Scripture is filled with helpful information about our future home—we just have to know where to look. Dr. David Jeremiah has spent a lifetime studying what the Bible has to say about heaven, and now in Answers to Your Questions about Heaven, he has done just that—provided answers to your most pressing questions about heaven, angels, and eternity in a straightforward, easy-to-understand, biblically based book. A perfect gift for friends and family and a handy resource to keep on your own shelf, this handsome little book will ignite your imagination and whet your appetite for all the amazing experiences that await!

---
TABLE OF CONTENTS (Abridged)
Introduction
What's Up with Heaven?
Where Are They Now?
Angels and Death
What about the Children?
Won't Heaven Be Boring?
What's Up with Angels?
Heaven's Rebels
Angels and You
The Ultimate "Extreme Makeover"
Heaven's Oscars
The Heavenly City
Worship in Heaven
What on Earth Is the Millennium?
The New Heaven and the New Earth
Tough-Minded about Heaven
Scripture Reference Guide
Additional Resources by Dr. Jeremiah
Notes
About the Author

---
AUTHOR PROFILE
Dr. David Jeremiah is the senior pastor of Shadow Mountain Community Church in El Cajon, California, and chancellor of San Diego Christian College. He is also the founder of Turning Point, a ministry committed to providing sound Bible teaching through national radio and television broadcasting. Dr. Jeremiah has authored numerous books, including the best-selling "Captured by Grace," "Life Wide Open," "My Heart's Desire," and "Sanctuary."

---
BOOK SPECIFICATIONS
141 pages, hardcover (6.4 x 4.2 x 0.5 inches).
ISBN 9781496402127