Home
About Us
FAQ
Privacy Policy
Contact Us
Books
DVDs
VHS
Charts
Audio Books
General Information
Secure Order Form
Mail & Fax Orders
Shipping Rates

Mastercard
Visa, Discover
* * *
Phone Toll Free:
1-877-577-8743
within U.S.A.
* * *
International
1-336-246-2663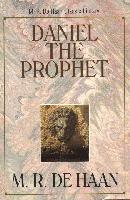 DANIEL THE PROPHET

M.R. De Haan, 1995



One of America's most beloved Bible teachers, Dr. M.R. De Haan, presents the major themes of Daniel's personal history and prophetic visions from a dispensational perspective. Adapted from Dr. De Haan's popular ministry on the Radio Bible Class broadcast, these thirty-five studies reflect the author's thorough, biblical research. They are practical in application, however, and accessible to Christian readers of all levels.

---
TABLE OF CONTENTS
Introduction
The Scriptures Cannot Be Broken
The Sins of the Fathers
Touch Not
Dare to Be a Daniel
The Times of the Gentiles
Nebuchadnezzar's Image
Three Hebrews in the Fiery Furnace
The Faithful Remnant in the Tribulation
The Burning Bush
Why Do the Heathen Rage?
The Coming Reign of Christ
Bad News and Good News
The Tree Vision of Nebuchadnezzar
The Conversion of the World
The Rise and Fall of Babylon
The Handwriting on the Wall
The Jews and Palestine
Daniel in the Lions' Den
The 144,000 Elect
The Four Beasts of Daniel
The Man of Sin
The Little Horn
The Two Thousand Three Hundred Days
Daniel's Prayer of Repentance
How God Answers Prayer
The Seventieth Week of Daniel
Angels and Demons
The Ministry of Angels
The Personal Antichrist
The Approaching End
Armageddon
The End Time
The Signs of the Times, Part One
The Signs of the Times, Part Two
The Signs of the Times, Part Three
---
AUTHOR PROFILE
M.R. De Haan (1891-1965) spoke to millions of listeners each week for some twenty-seven years on the Radio Bible Class. His academic training included a degree from Hope College, a medical degree from the Univeristy of Illinois Medical College, and further study at Western Theological Seminary. He was the author of more than twenty books and countless daily devotionals in Our Daily Bread, published by RBC Ministries of Grand Rapids, Michigan.

---
BOOK SPECIFICATIONS
339 pages, paper
ISBN 0825424755