Home
About Us
FAQ
Privacy Policy
Contact Us
Books
DVDs
VHS
Charts
Audio Books
General Information
Secure Order Form
Mail & Fax Orders
Shipping Rates

Mastercard
Visa, Discover
* * *
Phone Toll Free:
1-877-577-8743
within U.S.A.
* * *
International
1-336-246-2663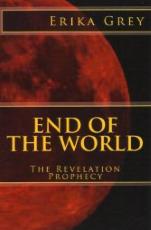 END OF THE WORLD
The Revelation Prophecy

Erika Grey, 2013


$15.95
Ships within
24 hours!


No book in the Bible is more frightening than the Revelation. The entire book of Revelation is devoted to the end of the world detailing Godís judgments unleashed onto the earth plague by plague. Revelation is the last book of the Bible and is a prophetic book. It forecasts the apocalypse, which means the final destruction of the world with events of catastrophic scale. Part of the Earthís judgments happen through a world dictator Bible Scholars refer to as the Antichrist. End of the World: The Revelation Prophecy provides an overview of the book of Revelation while also correlating Bible Prophecy to current events to help the reader understand how close we now are to the fulfillment of the Revelation prophecy.

---
TABLE OF CONTENTS
Introduction
Why The Apostle John?
The Revelation Prophecy
Signs of the Times
The Antichrist and His Empire
The Great Whore of Babylon
The Beast of Revelation
The Peace Treaty
The Abomination of Desolation
The Mark of the Beast
Armageddon
---
AUTHOR PROFILE
Erika Grey is an Evangelical Christian author, prophecy expert, teacher and commentator. www.erikagrey.com features Erika's books, blogs, articles and radio broadcasts. Erika Grey focuses on current affairs, the EU and its relation to Bible Prophecy and issues that effect individuals living in these end times. Within Evangelical circles, Erika Grey is the leading authority on the EU and Bible Prophecy which is evidenced by her exposes and books on the European Union, for which Erika speaks on radio shows across the U.S. Erika Grey hosts "Prophecy Talk" her own weekly radio show on blogtalkradio. Erika is also a member of the Society of Professional Journalists.

---
BOOK SPECIFICATIONS
143 pages, paperback.
ISBN 9781940844053