A TALE OF TWO BABYLONS - DVD
Trump's Prophetic Appointment With "Destiny"

David Bay, 2017


$18.95
Retail $19.99
Ships within
24 hours!


The Bible mentions the name 'Babylon' 264 times in the KJV. Today, many Christians are confused about references in prophetic passages which use Babylon in seemingly difference ways. When a Christian tries to shoe-horn one definition into all references to Babylon he / she is unnecessarily confused.
In our study of 'A Tale of Two Babylons', we are going to demonstrate that prophetic literature speaks of God's judgment on one physical nation 'Babylon' (Judged in Isaiah 13) and one nation Symbolically called 'Babylon' ( Judged in Revelation 18).
In this study of 'A Tale of Two Babylons', we are going to demonstrate that End Times prophecy speaks of God's judgment on one physical nation 'Babylon' and one nation Symbolically called 'Babylon'.
We will also reveal two major contributions to End Times' prophecy which Donald J. Trump is poised to fulfill. In fact, Trump may be the only leader who can fulfill these prophecies in America today. President Trump does not realize it, but he has 'An Appointment With Destiny', a favorite term uttered many times by 33rd Degree Masonic President, Franklin Roosevelt, referring to the New Age / Masonic Messiah, whom the Bible calls Antichrist. Running Time: 1 hour, 38 minutes. DVD Region Code 1 (U.S. & Canada).
---
GOD'S LOVING SOVEREIGNTY OF ISRAEL - DVD

David Bay, 2015


$14.95
Ships within
24 hours!


God's Pattern In Dealing With Israel Revealed - From Ancient Israel To Today. Warning to all haters of Israel and the Jews: You are fighting 'Mission Impossible', fighting against Omnipotent God! Many Christians either do not understand the historical miracle of Israel's rebirth or they mistakenly believe that the Jews are no longer God's Chosen People, that the re-establishment of Israel in 1948 has no prophetic significance. Historical fact records that Israel was out of her land for 1,900 years. Israel's land was controlled by a succession of Gentile powers during that long period of time. At this point, Israel should never have been expected to gain her land back, because no people who had ever been out their land for several hundred years had ever regained it. The rebirth of Israel in 1948 was truly an historically unprecedented miracle of God, accomplished against all historic odds. God foretold in many places in both the Old and New Testaments that He would tear Israel out her land if she refused to obey His commandments but then he repeatedly turned around and promised national restoration. Running Time: 55 minutes. DVD Region Code 1 (U.S. & Canada)
---
WORLD WAR III - DVD
History's Greatest Lynchpin Event

David Bay, 2015


$14.95
Ships within
24 hours!


Bible prophecy reveals that Antichrist will be produced on the world scene by a number of signs, including 'wars and rumors of wars'. Demonic familiar spirits told the Elite in 1870 that three world wars will be needed to produce Antichrist. Make no mistake about it: Antichrist will be produced by World War III. Therefore, the question of the hour is, 'when will this global war begin' and 'what are the signs it is about to commence'? Many major events are planned to occur just as World War III begins. Mankind will be systematically hit with unparalleled disasters of every kind as this planned global war unfolds. But, none of these events will occur until the lynchpin called 'World War III' is pulled.
When the Global Elite pulls this lynchpin event called World War III, events are going to be unleashed in such severity and in such great numbers the peoples of the world will not stand in awe, they will panic and run for the hills. Jesus said that 'men's hearts shall fail them for fear', and the Elite is creating just such climactic events which shall not occur until the lynchpin known as 'World War III' is pulled. We will show you the 12 major disasters the Elite has created and is waiting only for the beginning of World War III to unleash them all, almost at once. No one need fear that any of these disasters will jump across the starting line ahead of time; each awaits the 'pulling of the lynchpin', World War III. Running Time: 60 minutes. DVD Region Code 1 (U.S. & Canada)
---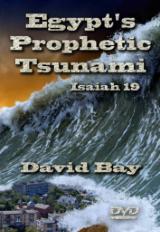 EGYPT'S PROPHETIC TSUNAMI: Isaiah 19 - DVD

David Bay, 2015


$14.95
Ships within
24 hours!


Egypt is dropping into the Abyss of her prophetic End Times Judgement - Isaiah 19. Current events are aligning perfectly with 2,600-year- old prophecy! Prepare to be amazed. Isaiah 19 foretells two major events occurring in Egypt that will deliver her End Times destruction. These two events are: 1) Her government will turn severely dictatorial and will oppress the people. This oppressive government will spark a civil war in which Egyptian kills Egyptian; 2) The Nile River will inexplicably rise up in huge volume and will destroy Egypt's ability to feed herself. Ethiopia's Renaissance Dam is so poorly designed and built that it could burst, sending a tsunami wave all along the Nile River in Egypt. But that's not the end of the story. After pronouncing a death sentence on Egypt by the rampaging flood waters from the Nile River, God turns in great mercy to pronounce a millennia of blessing upon the Egyptian people! Running Time: 53 minutes. DVD Region Code 1 (U.S. & Canada)
---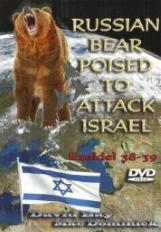 RUSSIAN BEAR POISED TO ATTACK ISRAEL - DVD
Ezekiel 38-39

David Bay & Mac Dominick, 2015


$14.95
Ships within
24 hours!


The Prophet Ezekiel foretold of a time at the End of the Age when Russia would lead a confederation of armies in an attack on Israel. The imagery of such an attack is stupendous and has excited people all through the ages. Imagine! A vast army led by the largest country on Earth converging upon the smallest nation on Earth, and joined by some very formidable foreign troops, and still Israel wins this one- battle war. Actually, God wins the battle and annihilates both the troops in the field and the countries which sent them.
Today, the countries listed by Ezekiel 38-39 as joining in this formidable war have already coming together in alliance and are led by virulently anti-Israel leaders. The countries, the leaders, and the weaponry are all in place, awaiting only the SUPERNATURAL call to battle, exactly as Daniel 10 instructs us. As these nations are awaiting the summons to march toward Israel, they are protected by Ezekiel 38-39 right now from any destruction or 'regime change'.
Truly, the world stands at the precipice of the End of the Age. While there will be NO Israeli or American attack on Iran, these 'Rumors of Wars' serve a very useful purpose as the Illuminati seeks to manipulate events in the world to her advantage so she can ultimately stage her Masonic Christ (Antichrist). Running Time: 60 minutes. DVD Region Code 1 (U.S. & Canada)
More Products on Gog and Magog
---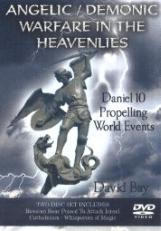 ANGELIC / DEMONIC WARFARE IN THE HEAVENLIES - Set of Two DVDs
Daniel 10 Propelling World Events

David Bay, 2015


$25.95
Retail $29.99
Ships within
24 hours!


This Combo Offer demonstrates the Biblical truth that the daily battling between Godly Angels and ungodly demons in the Heavenlies determines the flow of history, precisely as Daniel 10 reveals. Daniel, Chapter 10, reveals a most shocking daily battling which is occurring in the Heavenlies. Godly angels are constantly battling ungodly demons over who would have control of human leaders. This type of supernatural battling in the Heavenlies is occurring every day in these End Times.
The first DVD, Russian Bear Poised To Attack Israel: Ezekiel 38- 39, identifies the Russian Demonic Overlord as 'Gog' and demonstrates that you cannot understand this invasion if you do not believe in this daily supernatural battling. The second DVD, Catholicism: Whisperers of Magic, reveals that the Demonic Overlord assigned to the Pope from the beginning of the Catholic Church, worked to bring that church from lukewarm Christian to Black Magick Satanism, so that Catholicism and its Pope could be 'proper receptors to the New Age Christ' (Antichrist). You will see Catholicism in a completely different light. Total Running Time on Two DVDs: 120 minutes. DVD Region Code 1 (U.S. & Canada)
---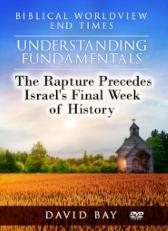 THE RAPTURE PRECEDES ISRAEL'S FINAL "WEEK" OF HISTORY - DVD

David Bay, 2014


$14.95
Ships within
24 hours!


Is there a tie-in between the Rapture and the beginning of Daniels 70th Week, which is known as the Great Tribulation? Consider the Global rapture. Every Born Again believer will be instantaneously snatched from this dimension. Will be like a strong magnet passed over a bed of steel and aluminum fragments. What happens? The steel flies through the air to attach themselves to the bottom of the magnet while the aluminum pieces remain in the bed. Jesus Himself will appear in the air over the Earth and utter a strong shout for His Church. At that instant, believers will be snatched from their earthly dimension and will fly through the air to meet Jesus, getting a glorified body along the way. The 70th Week is the 7- Year Tribulation, whose major purpose is to further purify Israel to accept Jesus as their Messiah. The Christian Church is not in view here because Gods purpose is to finally deal with Israel. Once God removes His Church, He can deal with Israel's last punishment and her preparation to receive Jesus as the Jewish Messiah. Exciting times. Do not miss the Rapture of the Church! Running Time: 55 minutes. DVD Region Code 1 (U.S. & Canada)
---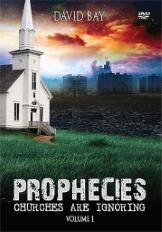 PROPHECIES CHURCHES ARE IGNORING - Set of Three DVDs
Volume 1
David Bay, 2014


$39.95
Retail $89.94
Ships within
24 hours!


Why are so many pastors so reluctant to teach prophecy? Why are so many pastors even more reluctant to teach how current events are uniquely fulfilling End of the Age prophecy? Cutting Edge Director, David Bay, teaches six hard-hitting lessons on six unique End Times instances where events are fulfilling prophecy, but no one is talking about it. Six hot topics on three discs:
The Prophetic Beast Arises: Ten Toes of Daniel Are Forming
Rapture Precedes Israels Final 'WEEK' of History
Eternal Security: God's Anchor In A Brutal Storm
End Times Judgment On Iraq (Babylon) Worse Than Believed Possible - Isaiah 13
Israel's Prophesied Annihilation of the Palestinians
America Identified In Prophecy: Economic Babylon of Revelation 18
Running Time: 5 1/2 hours on three DVDs. DVD Region Code 1 (U.S. & Canada)
---
TOP | HOME
Copyright 2015-2017 by Cliffside Publishing House