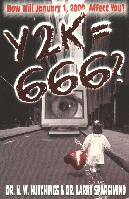 Y2K = 666?
Dr. N.W. Hutchings & Dr. Larry Spargimno, 1998



Thousands of experts in finance, communicatons, and computer technology are now predicting an international crisis. Congress has warned that utilities may be impacted. News reports warn of martial law. Others warn that government payroll checks and Social Security checks may not be delivered, and banks may be forced to close. In this revealing new book, you'll find the answers to questions such as:
Is the world headed for universal judgment on January 1, 2000 A.D.?
Could it throw the world into a nuclear war?
Are there prophecies that relate to the end of the age which coincide with the Y2K problem?
Could the Y2K problem bring about the Mark of the Beast?
View: Premillennial, Pre-Tribulation

---
TABLE OF CONTENTS
A Word of Thanks
Introduction
How Did We Get Into This Mess?
What Others Say About the Problem
What Happens If It Happens?
The Y2K Problem and Bible Prophecy
Tightening the Noose: Y2K and Universal Bondage
Being Spiritually Prepared
Preparing to Survive
The Final Solution
The Transcripts

Y2K: Who? Why? When? Where?
---
AUTHOR PROFILES
Dr. N. W. Hutchings is president of the Southwest Radio Church, one of the foremost prophetic ministries in the world. He has written dozens of books and booklets on prophecy and other Bible themes. Dr. Hutchings has been active in missions and communications ministries for over 40 years and is recognized for being a world travelor, having led tours to Israel, Iraq, Egypt, Europe, China, and other nations around the world. His plain and conversational style of writing makes the subject matter he approaches both interesting and informative to the reader, regardless of the level of education or understanding.
Dr. Larry Spargimino came from a Catholic background. He became a born-again believer after hearing the gospel of grace through faith. The author changed his eschatological view relating to the Second Coming of Christ from amillennialism to pre-millennialism while working on his doctrate at Southwestern Baptist Theological Seminary in Forth Worth, Texas. Dr. Spargimino served for several years as pastor of the River Bend Baptist Church in Bristol, Tennessee. He is now an associate pastor and editor with the ministry of Southwest Radio Church.
---
BOOK SPECIFICATIONS
208 pages, paper
ISBN 1575580284