Home
About Us
FAQ
Privacy Policy
Contact Us
Books
DVDs
VHS
Charts
Audio Books
General Information
Secure Order Form
Mail & Fax Orders
Shipping Rates

Mastercard
Visa, Discover
* * *
Phone Toll Free:
1-877-577-8743
within U.S.A.
* * *
International
1-336-246-2663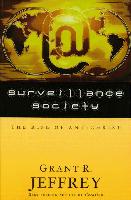 SURVEILLANCE SOCIETY
The Rise of Antichrist

Grant R. Jeffrey, 2000


Explores the fascinating prophecies that are setting the stage for the rise of Antichrist.
New surveillance technologies are destroying your privacy and freedom.
Biometric identification and the mark of the beast.
Is the Antichrist alive today?
Astonishing information warfare weapons that are changing our world.
Computer economic warfare against America.
NATO's high tech strategy to create world government.
---
TABLE OF CONTENTS
Acknowledgments
Introduction
Setting the Stage for World Government
NATO's Military Strategy in Support of World Government
Astonishing New Weapons of the New World Order
Global Economic Warfare
The Death of Personal Privacy
Big Brother is Watching
Project Echelon
The World's First Super State-the Revived Roman Empire
The Rise of Antichrist
Antichrist and the Mark of the Beast
The Battle of Armageddon
Humanity at the Crossroads
Selected Bibliography

---
AUTHOR PROFILE
Dr. Grant Jeffrey is internationally known as a leading teacher in Bible Prophecy. Over four million readers have enjoyed his seventeen bestselling books. Grant's new book examines the remarkable fulfillments of prophecy that are setting the stage for the rise of Antichrist and the return of Jesus Christ.

---
BOOK SPECIFICATIONS
278 pages, paper, bibliography
ISBN 0921714629