Home
About Us
FAQ
Privacy Policy
Contact Us
Books
DVDs
VHS
Charts
Audio Books
General Information
Secure Order Form
Mail & Fax Orders
Shipping Rates

Mastercard
Visa, Discover
* * *
Phone Toll Free:
1-877-577-8743
within U.S.A.
* * *
International
1-336-246-2663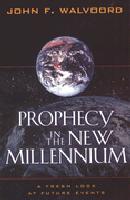 PROPHECY IN THE NEW MILLENNIUM

John F. Walvoord, 2001



Y2K is a distant memory, and everybody is settling into the new millennium. Now the question becomes what will happen as it unfolds? Walvoord's new analysis of biblical prophecy and current events discusses topics such as Israel, the antichrist, the rapture, the second coming, and more. Also features a review of major unfulfilled prophecies.

All the attention focused on rapidly changing world and technological affairs at the close of the twentieth century has renewed speculation about the future-a future waiting to unfold in unprecedented prophetic fashion. Because many biblical prophecies have been fulfilled in recent decades, there now exists a world situation that fits the biblical description of the end times. Ongoing tension in the Middle East, unification of the European continent, and theological and moral apostasy in the church all point to the soon return of Jesus. But the question remains, how and when will it happen?

---
TABLE OF CONTENTS
Introduction
Prophecies Fulfilled in the Twentieth Century
The Rapture: The First Prophetic Event of the New Millennium
The Judgment Seat of Christ
The United States of Europe as the New Europe
Israel in the New Millennium
The Antichrist and the Coming World Government
The Impending Day of the Lord
The Second Coming of Christ
The Resurrections
The Rapture Question
The Interpretation of the Millennium
The New Heaven and the New Earth
Scripture Index
Subject Index

---
AUTHOR PROFILE
John F. Walvoord has defined contemporary eschatology for an entire generation. Chancellor Emeritus of Dallas Theological Seminary, where he served as president from 1936 to 1986, Dr. Walvoord is one of America's leading conservative theologians and a specialist in dispensational eschatology. More than 3 million copies of his books are in print.

---
BOOK SPECIFICATIONS
176 pages, paper, Scripture index, general index
ISBN 0825439671