Home
About Us
FAQ
Privacy Policy
Contact Us
Books
DVDs
VHS
Charts
Audio Books
General Information
Secure Order Form
Mail & Fax Orders
Shipping Rates

Mastercard
Visa, Discover
* * *
Phone Toll Free:
1-877-577-8743
within U.S.A.
* * *
International
1-336-246-2663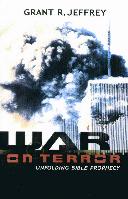 WAR ON TERROR
Unfolding Bible Prophecy

Grant R. Jeffrey, 2002



Best selling author Grant Jeffrey explores the origin and motives of the Islamic terrorists that have declared war against America and the West. Examine the motives and plans of these terror groups and the states that support them. Learn how the powerful western alliance against terror will use our diplomatic, intelligence and military forces to destroy the Islamic terrorists that are trying to destroy our way of life. Key Points include:
The War on Terror against Iraq was prophesied by Jeremiah 2500 years ago.
Documented evidence Iraq is behind the terrorist attacks.
Which nations support Islamic terror.
Why Islamic terrorists hate America, Israel, and Arab governments.
How America will defeat international Islamic terror.
Remarkable surveillance technologies - astonishing new counter-terror weapons.
The Identity of the Taliban - Pathan tribe - the Ten Lost Tribes.
The war on terror's impact on the PLO Israel conflict.
The attack on Israel - America's key strategic ally in the Middle East.
Russia's goal - to turn the coalition against Israel.
The Need for security vs our privacy and freedom.
---
TABLE OF CONTENTS
Acknowledgments
Introduction
The September 11 Terrorist Attack on America
Who Are the Terrorists
The Key Terrorist-Supporting Nations
Why Do the Arabs Hate the United States and Israel?
Iraq's War of Revenge Against America
The War Against Babylon
The Coming Russian and Arab Invasion of Israel
America's Counterterror War
The War Against Terror and the Coming World Government
The Need for Surveillance versus the Loss of Privacy and Freedom
Practical and Spiritual Strategies for the War on Terror
Our Spiritual Response to the War on Terror
Appendix A: Osama bin Laden's Declaration of War
Appendix B: The Case Against Osama bin Laden
Selected Bibliography

---
AUTHOR PROFILE
Grant R. Jeffrey is a leading authority on Bible Prophecy. Five million readers have enjoyed his eighteen best selling books. War on Terror offer valuable insights and documentation about the vital conflict the West is now waging to destroy the Islamic terrorists who attacked America on September 11, 2001.

---
BOOK SPECIFICATIONS
230 pages, paper.
ISBN 0921714661