Home
About Us
FAQ
Privacy Policy
Contact Us
Books
DVDs
VHS
Charts
Audio Books
General Information
Secure Order Form
Mail & Fax Orders
Shipping Rates

Mastercard
Visa, Discover
* * *
Phone Toll Free:
1-877-577-8743
within U.S.A.
* * *
International
1-336-246-2663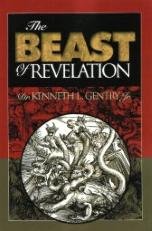 THE BEAST OF REVELATION
Revised Edition

Dr. Kenneth L. Gentry, Jr., 2002


$29.95
Ships within
24 hours!


Who is this mysterious person behind the number that has frightened, perplexed, and evaded prophecy students for nearly two millennia? Dr. Ken Gentry leads the reader through a rich historical tour and employs gripping theological analysis as he solves the case. He also reveals "the clue" that closes the door on this 2,000 year-old-mystery. The sure Scriptural and historical foundation laid in this break-thru book is remarkable. The reader will quickly learn that the Bible does interpret itself. Gentry employs this indispensable method throughout the book and exhibits its rational and illuminating effects page after page. How about you? Are you weary of the modern-day hype over identifying the Beast? Does your skepticism soar as each new Antichrist candidate fails to measure up to the Biblical evidence? If so, then Providence has brought you to the road of decision. The time has come to dispel the murk, build the case, and finally reveal: The Beast of Revelation. Are you ready to meet him?

---
TABLE OF CONTENTS
Preface to the Second Edition
Part 1: Who is the Beast?
Introduction
1. The Identity of the Beast
2. The Relevance of the Beast
3. The Number of the Beast
4. The Character of the Beast
5. The War of the Beast
6. The Worship of the Beast
7. The Revival of the Beast
Part 2: When was Revelation Written?

8. The Interpretive Importance
9. The Thematic Evidence
10. The Political Evidence
11. The Architectural Evidence
12. The Ecclesiastical Evidence
13. The Patristic Evidence
14. The Patristic Objection
15. The Theoretical Problems
Conclusion

---
AUTHOR PROFILE
Kenneth L. Gentry, Jr., Th.D., is Research Professor of Theology with Christ College, Lynchburg, VA. He has authored numerous books including, Before Jerusalem Fell, Perilous Times, He Shall Have Dominion, God Gave Wine, and The Greatness of the Great Commission. He has contributed to several debate books including, The Great Tribulation: Past or Future with Thomas Ice, Four Views on the Millennium, ed. by Marvin Pate, and Three Views on the End of History, ed. by Darrell Bock.

---
BOOK SPECIFICATIONS
246 pages, paperback
ISBN 9780996452519