Home
About Us
FAQ
Privacy Policy
Contact Us
Books
DVDs
VHS
Charts
Audio Books
General Information
Secure Order Form
Mail & Fax Orders
Shipping Rates

Mastercard
Visa, Discover
* * *
Phone Toll Free:
1-877-577-8743
within U.S.A.
* * *
International
1-336-246-2663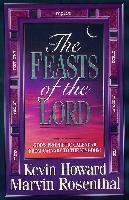 THE FEASTS OF THE LORD
God's Prophetic Calendar from Calvary to the Kingdom

Kevin Howard & Marvin Rosenthal, 1997



The seven major Jewish feasts---they're packed with prophecy and imagery that point to Jesus Christ. Writing from a Hebrew-Christian perspective, Howard and Rosenthal give the historical context of each feast, explain its richly symbolic ceremony and ritual, and help you better understand God's glorious plan of salvation.

---
TABLE OF CONTENTS
Acknowledgments
Israel's Temple
INTRODUCTION TO THE FEASTS

Overview of the Spring Feasts
Overview of the Fall Feasts
Jewish Time

THE FEASTS OF LEVITICUS 23

Passover
The Feast of Unleavened Bread
The Feast of Firstfruits
Shavuot - The Feast of Weeks
Rosh Hashanah - The Feast of Trumpets
Yom Kippur - The Day of Atonement
Sukkot - The Feast of Tabernacles

ADDITIONAL OBSERVANCES

Tisha B'Av - The Fast of the Fifth Month
Hanukkah - The Feast of Dedication
Purim - The Feast of Lots
The Jubilee Year

Jewish Holiday Schedule
Bibliography
General Index
Scripture Index
For Further Information
---
AUTHOR PROFILES
Kevin Howard is an ordained minister with unique insight into Jewish culture and the Hebrew language as a result of his involvement in the synagogue, the Jewish community, and his trips to Israel. He spent six years as an administrator and Bible teacher with The Friends of Israel Gospel Ministry, Inc., a world-wide missionary organization to the Jewish people. He is currently the field directory of ZION'S HOPE, Inc. and is a frequent writer for the magazine, Zion's Fire.
Born and raised in a conservative Jewish home, Marvin Rosenthal placed his trust in Jesus as a teenager by following the godly example of his mother. He served in the pastorate for six years, before serving The Friends of Israel Gospel Ministry, Inc. as director for sixteen years. In that capacity, he was editor of the magazine, Israel My Glory. He is currently the executive director of ZION'S HOPE, Inc., editor of Zion's Fire and is a much sought-after conference speaker, often addressing the prophetic implications of current world events and the explosive Middle East.

---
BOOK SPECIFICATIONS
224 pages, hardback, illustrated.
ISBN: 0785275185