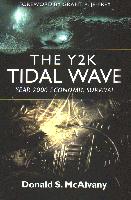 Y2K TIDAL WAVE
Year 2000 Economic Survival

Don McAlvany, 1999



The Y2K Tidal Wave documents how global chaos and confusion during the Y2K computer crisis on January 1, 2000 may set the stage for the rise of Antichrist, the cashless society and the ultimate return of Christ. McAlvany convincingly shows how the Y2K crisis, along with weakened stock markets and the failure of leadership, may collapse our international economy. This crisis endangers our utilities, food supplies, and the global financial system. Learn how to protect your family, your life savings, and business during this extraordinary crisis.

Includes a foreword by Grant R. Jeffrey

View: Premillennial, Pre-Tribulation

---
KEY ISSUES
Is the Y2K computer crisis a genuine threat to Americans?
Will the computer crisis damage our nation's military defense?
Will the Y2K crisis trigger a global depression?
Will our liberty and freedom be affected by the Y2K crisis?
What practical steps should I take to protect my loved ones?

---
TABLE OF CONTENTS
Foreword
Introduction
Part I

What Is the Millennium Bug?
Those Elusive Embedded Computer Chips
A Warning to Congress: Edward Yardeni's Testimony
The Extent of the Y2K Crisis
Why America Will Not Be Ready for Y2K
Sudden Impact: The Effect of Y2K on America
Banking and Financial Systems at Risk
The Electric Power Grid Is at Risk Due to Y2K
Transportation Systems at Risk: Railroads and Airlines
Where's the Beef? The Y2K Impact on Food Supplies
Bureaucracies Grinding to a Halt: IRS, Social Security, Medicare
The Impact of the Y2K Crisis on National Defense
Foreign Non-compliance
The Social, Legal, and Global Implications of the Y2K Crisis
The Clinton Administration's Response to Y2K
Conclusion and Recommendations: Don't Worry! Be Prepared!
A Biblical Perspective on the Y2K Crisis
---
AUTHOR PROFILE
Don McAlvany is the highly respected editor of the McAlvany Intelligence Advisor. His monthly intelligence newsletter analyzes global, economic, political and financial developments and their effect on our families and personal finances. With a background in intelligence work, McAlvany is sought out by high level political and business leaders throughout the world for consultation on global financial trends. Don is a well respected speaker at Christian, political, monetary and investment conferences worldwide.
---
BOOK SPECIFICATIONS
286 pages, paper
ISBN 0921714548