Home
About Us
FAQ
Privacy Policy
Contact Us
Books
DVDs
VHS
Charts
Audio Books
General Information
Secure Order Form
Mail & Fax Orders
Shipping Rates

Mastercard
Visa, Discover
* * *
Phone Toll Free:
1-877-577-8743
within U.S.A.
* * *
International
1-336-246-2663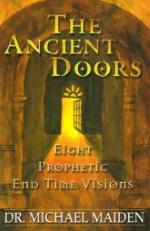 THE ANCIENT DOORS
Eight Prophetic End Time Visions

Dr. Michael Maiden, 2002



The Ancient Doors is full of prophetic revelations, warnings and encouragement to America and the Body of Christ.

The Ancient Doors reveals:
Three major tragedies coming to America.
How to pray for divine protection.
The costly military mistake that America will make.
The coming worst US economic shaking in 75 years and how to be ready for it.
The betrayal of America by it's allied nations.
America's spiritual revival and economic comeback.
God's sudden wealth transfer to obedient tithing Christians.
And many more end-time prophetic revelations are revealed in this book
---
TABLE OF CONTENTS
Introduction:
The Child And The Laughing Mountains
The Eagle In The Maze
The Small Sparrow And The Great Storm
The Broken; Bridled Horse
The Magnet Church
The Ancient Doors
The Silver Trumpet
The Perfect Storm: America's Impending Season of Judgement
---
AUTHOR PROFILE
Michael Maiden is the Senior Pastor of The Church for the Nations in Phoenix, Arizona. Dr. Maiden has earned a B.A. degree in biblical studies as well as both an M.A. and a Ph.D. in Psychology. He has authored seven books including The Joshua Generation and Broken Vessel. Dr. Maiden and his wife, Mary, have four children and live in Scottsdale, Arizona.

---
BOOK SPECIFICATIONS
97 pages, paperback.
ISBN 9781562290726