Home
About Us
FAQ
Privacy Policy
Contact Us
Books
DVDs
VHS
Charts
Audio Books
General Information
Secure Order Form
Mail & Fax Orders
Shipping Rates

Mastercard
Visa, Discover
* * *
Phone Toll Free:
1-877-577-8743
within U.S.A.
* * *
International
1-336-246-2663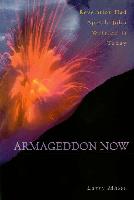 ARMAGEDDON NOW
Revelation Had Apostle John Written It Today

Larry Massa, 2003



During his career, Larry Massa has acquired extensive knowledge of the effects of many weapons systems, including those of mass destruction. Utilizing this knowledge, he has written a clear interpretation of the Book of Revelation describing how God's end-time judgments could easily be accomplished through today's weaponry.

Now you can read the Book of Revelation, understand what is being said, and get answers to some hard questions, such as:
How will the world end?
Who defeats and destroys the USA?
What is Israel doing during the end-times?
What happens after Christ's second coming?
Where are Christians during the thousand years that Christ reigns on Earth?
What countries will God use to execute His end-time judgments?
Do those "left behind" after the Rapture have a second chance?
Who is the final Anti-Christ?
---
TABLE OF CONTENTS
Preface
Interpretations
The Spiritual Jesus
Warnings to All Churches
The Highest Heaven
Christ Takes Back the Title Deed of the Earth
The Seals are Opened
The Worldwide Preaching of the Gospel of the Kingdom
The Trumpet Judgments
The Three Woes
A New Prophecy
God's Mighty Two Witnesses
An Overview of Israel's Deliverance
The Anti-Christ's Reign with the False Prophet
Heaven Is Mobilized for the Final Judgments
Salvation Ceases
The Seven Bowls of Wrath
How World Events Led Up to the End
The End of the United States of America
Christ's Second Coming with the Church
The Millennial Period
The Great White Throne Judgment
The New Heaven and the New Earth
The End of John's Vision
Appendix A: The Tribulation Timeline Summarized
Appendix B: Your Salvation
Appendix C: The United States of America

---
AUTHOR PROFILE
Larry Massa, a leader and long-time teacher in his local church, has worked for over thirty years in the Department of Defense. He is widely pursued by defense contractors in the United States and other nations for his consulting services regarding current weapons, their preferred use and resulting effects.

---
BOOK SPECIFICATIONS
140 pages, paper
ISBN 1579214886