Home
About Us
FAQ
Privacy Policy
Contact Us
Books
DVDs
VHS
Charts
Audio Books
General Information
Secure Order Form
Mail & Fax Orders
Shipping Rates

Mastercard
Visa, Discover
* * *
Phone Toll Free:
1-877-577-8743
within U.S.A.
* * *
International
1-336-246-2663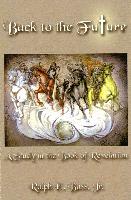 BACK TO THE FUTURE
A Study in the Book of Revelation

Ralph E. Bass, Jr., 2004



After embracing the theology of the Dispensational church for thirty-three years, nourished by a loving pastor and many dear friends, and along the way taking in countless sermons, Sunday school lessons, and Bible studies, there was still a doubt in the author's mind concerning the issues raised by eschatological questions--by the questions of biblical prophecy and the final events in the history of the world and of mankind. This book is the result of the author's quest.

---
TABLE OF CONTENTS
Preface
Introduction
Vision of the Son of Man
The Seven Letters
The Seven Letters
The Throne Room
The Book and the Lamb
The Opening of the Seals
The Great Tribulation
The Seven Trumpets
Trumpets Five and Six
The Mighty Angel and Eating
The Two Witnesses and the Seventh Trumpet
The Woman, the Red Dragon and Michael
The Beast from the Sea and from the Land
The Lamb and the 144,000 on Mount Zion
The Seven Last Plagues
Pouring out of the Bowls
Babylon Remembered
The Fall of Babylon
The Heavenly Conqueror
The Millennium
All Things Made New
Eternal Reign in Glory
Conclusion
Appendix A: A Study in Greek Vocabulary
Appendix B: The Mark of the Beast and the Number of the Name?
Bibliography
The Author

---
AUTHOR PROFILE
Ralph E. Bass, Jr. has an undergraduate degree, BA, in Bible from Bob Jones University, and graduate degrees: a M.A. in Counseling from Webster University, a M.Div. in divinity studies from Erskine Theological Seminary, a Th.M. in theological studies from Greenville Presbyterian Theological Seminary, and a Th.D. in theological studies from Reformation International Theological Seminary.
An experienced biblical counselor, Dr. Bass is a member of the International Association of Biblical Counselors. He has a number of years of experience as a biblical counselor, a pastor, and as a teacher and school administrator in several Christian schools. He is married and has five children and fourteen grandchildren.

---
BOOK SPECIFICATIONS
537 pages, hardcover, bibliography.
ISBN 0975954709