Home
About Us
FAQ
Privacy Policy
Contact Us
Books
DVDs
VHS
Charts
Audio Books
General Information
Secure Order Form
Mail & Fax Orders
Shipping Rates

Mastercard
Visa, Discover
* * *
Phone Toll Free:
1-877-577-8743
within U.S.A.
* * *
International
1-336-246-2663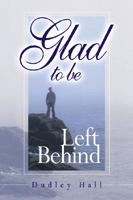 GLAD TO BE LEFT BEHIND

Dudley Hall, 2004



Glad to Be Left Behind follows four teenagers as they search for answers when they are left behind after a tragic suicide. With Uncle Herm as their guide, Paul, Kristy, Chuck, and Francis look at life, death, church, the rapture, and Armageddon as they search for the reason they were left behind. Noah, Moses, Joseph, and David were all called to leave their former lives and become someone new in the Kingdom of God. They left behind what they had known and followed the dream of serving God.

---
TABLE OF CONTENTS
Foreword
The Armageddon Discussion
In the End... We Fail?
What Are We Thinking?
Call No Man Teacher
The Greatest Bible Class
Who Is Israel?
Is This a New Gospel?
Who Are the People of God?
What About the Land?
Ultimate Conspiracy
The Crash of Spaceship Earth
Living Today With Passion and Purpose
Serious About Change
The Present Future
As Valuable as Noah
Epilogue
Appendix A - Honoring Israel and Exalting Jesus
Appendix B - Signs of the End--Matthew 24
Conclusion

---
AUTHOR PROFILE
As the President of Successful Christian Living Ministries, Dudley Hall has shown great dedication to helping his own generation find its destiny as he points the coming generation toward the greatest thrill possible--losing your life for Jesus' sake. Dudley is also a popular speaker, President of the Fellowship of Connected Churches and Ministries, and author of several books, including Grace Works and Incense & Thunder.
A graduate of Samford University and Southwestern Baptist Theological Seminary, Dudley and his wife, Betsy, live in Grapevine, Texas.

---
BOOK SPECIFICATIONS
188 pages, paper, appendix, glossary, bibliography.
ISBN 0768429617