Home
About Us
FAQ
Privacy Policy
Contact Us
Books
DVDs
VHS
Charts
Audio Books
General Information
Secure Order Form
Mail & Fax Orders
Shipping Rates

Mastercard
Visa, Discover
* * *
Phone Toll Free:
1-877-577-8743
within U.S.A.
* * *
International
1-336-246-2663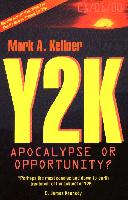 Y2K: APOCALYPSE OR OPPORTUNITY?

Mark A. Kellner, 1999



Kellner looks at the latest evidence for what may happen to daily life if personal, local, national, or global computers misread the date on January 1, 2000. He distills the detailed information available and offers us a reasoned approach to this highly sensationalized topic. He helps readers know how to prepare, and how not to, including concrete steps to take to "debug" everything from your PC to your church's automatic thermostat and your ATM card.
---
TABLE OF CONTENTS
Preface: How to Use This Book
Acknowledgments
Countdown to What?
How Did We Get Here?
What May Happen
The Day Your Money Dies?
Planes, Trains, and Automobiles
A Millennium of Moment-or of Madness?
Quick Fixes at Church, Work, and Home
Preparing to Minister and Witness
Planning for the Home
Helping Children and the Elderly
As This Book Goes to Press...
Glossary
Appendix: Y2K Resources
Index

---
AUTHOR PROFILE
Mark Kellner is a syndicated columist for The Washington Times and a frequent contributor to Nation's Business, Computing Today, Success, Working at Home, Christianity Today, Micro Times, The Detroit News, and the San Francisco Examiner. He is the former editor-in-chief of PC Portables, news editor of MIS Week, and Government Computer News. A California resident, Kellner has appeared on MSNBC, FOX TV, and BBC News. His books include WordPerfect 3.5 for Macs for Dummies and God on the Internet.
---
BOOK SPECIFICATIONS
160 pages, paper, index, glossary, appendix
ISBN 0877889422