Home
About Us
FAQ
Privacy Policy
Contact Us
Books
DVDs
VHS
Charts
Audio Books
General Information
Secure Order Form
Mail & Fax Orders
Shipping Rates

Mastercard
Visa, Discover
* * *
Phone Toll Free:
1-877-577-8743
within U.S.A.
* * *
International
1-336-246-2663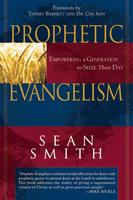 PROPHETIC EVANGELISM
Empowering a Generation to Seize Their Day

Sean Smith, 2004



You have been God-ordained to be on a collision course with the destiny of the multitudes. You are going to launch into a fresh empowerment becoming fiery agents of transformation. The quest for truth is on; summoning a new breed of marketplace prophetic evangelists to rise to the challenge. Prophetic Evangelism issues an invitation to reinstate prophecy to its rightful place in evangelism. This book reveals that God wants to speak through you directly into the conscience of unbelievers. It's time to break free from futility and frustrations to experience a release that will see heaven freshly populated with souls that you've impacted. Get ready to see 21st Century evangelists fully restored to the original New Testament status. You hold the key to the outcome of your generation.

---
TABLE OF CONTENTS
Foreword - Pastor Tommy Barnett
Foreword - Pastor Che Ahn
Prologue - Ezekiel Speaks
Out of the Box
Crazy Love
When Prophecy Meets Evangelism
Faith for an End-Time Awakening
Heartbroken for Humanity
Coming Out With the Big Guns
Turning Hearts With the Elijah Anointing
The Tongue of the Learned and the Awakened Ear
Manifest the Mystery
Prophetic Evangelism Activated!
Spiritual Authority and the Dunamis Lifestyle
The Jesus Style
The Art of Giving Evangelistic Appeals
---
AUTHOR PROFILE
Sean Smith has spent approximately 20 years in full-time ministry, 10 of which were spent directing campus outreach ministries at the University of the Pacific and California State Chico Campuses. Sean has now been launched into ful-time evangelism, conducting outreaches and crusades all over the United States and overseas. In addition to his evangelistic ministry, he also served as the Director of Spiritual Life at Bethany College in Scotts Valley, California. In May of 2001, Sean received a Masters in Ministry from the Wagner Leadership Institute. Sean's writings have been published in several nation-wide publications. The Smith family currently resides in San Ramon, California.

---
BOOK SPECIFICATIONS
238 pages, paper.
ISBN 076842335X