Home
About Us
FAQ
Privacy Policy
Contact Us
Books
DVDs
VHS
Charts
Audio Books
General Information
Secure Order Form
Mail & Fax Orders
Shipping Rates

Mastercard
Visa, Discover
* * *
Phone Toll Free:
1-877-577-8743
within U.S.A.
* * *
International
1-336-246-2663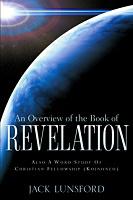 AN OVERVIEW OF THE BOOK OF REVELATION

Jack R. Lunsford, 2006



A preterite view of the book of Revelation, both Daniel and John forecast the Great Tribulation of 67-70 A.D. They also predict the "vials" of God's wrath being poured out on the Roman Empire at the time of Domitian the "little horn" (92-96 A.D.). This overview shows the Lake of Fire to be synonymous with the "burning flame" of Daniel 7:11. Armageddon will be shown to be the name of the symbolic battle. "Gog and Magog" is the symbolic name of the "nations" fighting with the Roman Empire against the rider on the white horse (Jesus). The resurrections of Daniel 12:1-3 and Revelation 20:4-7 will be shown to be synonymous. Two distinct 3 1/2 year periods of time are set forth in Daniel and Revelation. They are referred to as "Times, Time, and Half a Time." The Great Tribulation is shown to be synonymous with the 1,000-year reign.

---
TABLE OF CONTENTS
Chronology of Visions and the Lake of Fire
The Lake of Fire is Not Synonymous With Gehenna Fire
God's Judgment on Rome (92-96 A.D.)
The Judgments of Revelation Ch. 13-20 are all Shown to be Local
Secular History should not be allowed to Exegete Apocalyptic Terminology
The Fallacy of Uninspired Men using Terminology Of one Judgment to support another
Conclusions Regarding the Lake of Fire
Possible Answers to a Few Controversial Texts
Questions
Concerning the "Song of Moses"
The "Song of Moses"
Biblical History and Exposition
Regarding Judgments "In Time"
New Things and "New State of Affairs"
Fire and "Judgments in Time"
Matthew 24 and "The Last Day"
Exposition of Daniel Ch. 7, Ch. 9, Ch. 12
Judgments of "Time, Times, And Half A Time
The "Little Horn"
The Great Tribulation (Daniel 12:1-13)
Calendar; Syro-Macedonia Name of Months
War of the Jews
Jerusalem Under "Siege" (War of the Jews)
Chronology
Revelation
Shortly Come to Pass
Introductory Material
Revelation Ch. 1-3
"Behold He cometh with clouds"
Revelation Ch. 1:19 & Ch. 4:1-2 Past? Present? Future?
Revelation Ch. 4 and Ch. 5
Revelation Ch. 6
Revelation Ch. 6 and Ch. 7
Revelation Ch. 8 and Ch. 9
The Specific "Plagues" of Rv. Ch. 8, Ch. 9, Ch. 16
Revelation Ch. 10 and Ch. 11
Exposition of the 70 "Sevens" (weeks) of Da. 9:24-27
Chart of Chronology of Revelation & Emperors
Chart of the 70 "Weeks" or "Sevens"
Death of Jesus "Cut Off In Midst of Week"
Revelation Chapter 12
Documents Explaining "Persecutions" & "Mark of Beast"
Revelation Ch. 13
First-fruits
Revelation Ch. 15
Revelation Ch. 16 (Plagues poured out on Rome)
"Was, Is Not, and Yet Is" (Rv. 17:8)
The "Judgment" of the Great "Whore"
Revelation Ch. 18 and 19 (Psalms 9:17)
Ezekiel 37:1-14 (The Valley of Dry Bones)
Questions Concerning Revelation 20
Revelation 20...Sizing Up the Dilema
A Little "Different" Approach
The "Resurrection" of Daniel 12
Resurrections of a Cause
Revelation 20
Sequence
Paraphrase
Vital Exegesis of Revelation Ch. 20
"And I Saw Thrones"
Revelation Ch. 21
Revelation Ch. 22
Revelation Ch. 21 and 22
Questions & Discussion about the "New State of Affairs"

---
AUTHOR PROFILE
Jack R. Lunsford was born in Covington County, Alabama. He served in the U.S. Navy and in 1972 went into the ministry and entered Whites Ferry Road School of Preaching in West Monroe, Louisiana. In 1974, he began missionary work in central Mississippi where he helped establish congregations. Jack is married to Patricia Gayle (Ward) Lunsford, and they have two fine sons, Christopher and Stephen. Both are Christians.

---
BOOK SPECIFICATIONS
386 pages, paper.
ISBN 1597817902