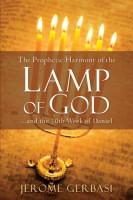 THE PROPHETIC HARMONY OF THE LAMP OF GOD ...and the 70th Week of Daniel

Jerome Gerbasi, 2006



This unique work of prophetic research looks afresh at some foundations of end-time prophecy found in the Holy Bible, and unveils a startling pattern that unmistakably reveals the handiwork of God in his plan. The simple but awesome revealed pattern beautifully resolves many conflicting views of prophecy. Many mysteries will be explored, such as: ∑ Does the popular view of Danielís 70th Week hold a crucial error? ∑ Do the 7 Feast Days found in the Old Testament reveal Godís whole plan of redemption? ∑ Does the Bible reveal what day the Harvest or Rapture of the Church will happen? ∑ What does the opening of the 6th Seal in the book of Revelation mean for the Church? ∑ Is there a harmony between the 7 Feast Days, the 7 days of Creation, the 70th Week of Daniel, the 7 Spirits of God, and Ďthe Lamp of Godí?

Read an excerpt from this book titled THE FEAST OF PENTECOST


---
TABLE OF CONTENTS
Introduction
Section 1 - Daniel's 70th Week
- The Covenant
- Prophecies of Desolation
- Church Age in the Midst of the Week
- Only 3 1/2 Years Left To Be Fulfilled
Section 2 - The Feast of Pentecost
- The Season of Change
- The Wheat Harvest
- Dispensational Change
- The Lamp of God
- The Witness of Symmetry
Section 3 - The Seven Feast Days and the 70th Week of Daniel
- Passover
- Unleavened Bread
- Firstfruits
- Pentecost (Weeks)
- Trumpets
- Atonement
- Tabernacles
- The Seven Feast Days and the Seven Days of Creation
- The Menorah and the Seven Spirits of God
Section 4 - The Unsearchable Riches of Christ
- The Law of Liberty (poem)
Section 5 - The 2 "Days of the Lord"
- The Gathering of the Elect of Christ
- Revelation Sequence
- 'The Beginning of Sorrows"
- Will the Rapture of the Church Be Invisible to teh World?
- The 7th Trumpet
- 'The Last Trump'
- The Four Beasts of Daniel
- Israel in the Wilderness
- War of Gog-Magog
- The Wheat Versus the Figs
- 'The Corn, the Wine, and the Oil'
- The Gathering of the Jewish Elect
- The 2nd Day of the Lord
Appendix
Bibliography

---
AUTHOR PROFILE
Jerome Gerbasi was born in 1974 in San Francisco, CA. but has since relocated to Eau Claire, WI. Prophecy was a major key to his understanding that the Bible is the true Word of God, and has diligently studied it ever since. Any honest comments and questions about the contents of the book are welcomed by him and may be directed to his email address: sonshiny7@hotmail.com.

---
BOOK SPECIFICATIONS
332 pages, paper, appendix, bibliography.
ISBN: 1600346049