Home
About Us
FAQ
Privacy Policy
Contact Us
Books
DVDs
VHS
Charts
Audio Books
General Information
Secure Order Form
Mail & Fax Orders
Shipping Rates

Mastercard
Visa, Discover
* * *
Phone Toll Free:
1-877-577-8743
within U.S.A.
* * *
International
1-336-246-2663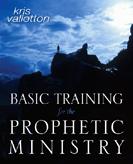 BASIC TRAINING FOR THE PROPHETIC MINISTRY
Kris Vallotton, 2005



Have you been called by God to be a prophet? Learn how to develop your calling and increase the strength of your gifts from someone who has given hundreds of prophetic words worldwide. Author Kris Vallotton guides you through the rigors of basic training by revealing the core issues about prophecy and a revolutionary prophetic ministry. Complete with inspiring true stories, thought-provoking questions, and Personal Experience Journal, you can begin today to fulfill the calling God designed for you!

---
TABLE OF CONTENTS
Preface
Introduction
The Purpose of Prophetic Ministry
Prophets and Prophecy
Learning to Hear the Voice of God
The Language of God
Judging and Receiving Prophetic Words
Receiving and Ministering in the Gift of Prophecy
Prophetic Etiquette
False Prophets
Practicing Prophecy
Epilogue
Appendix--Personal Experience Journal

---
AUTHOR PROFILE
Kris Vallotton is the founder and overseer of Bethel School of Supernatural Ministry in Redding, California. He has been a partner with Bill Johnson's apostolic team for over 28 years. Kris and his wife, Kathy, develop prophetic teams and supernatural schools worldwide. They have four children and seven grandchildren.

---
BOOK SPECIFICATIONS
106 pages, 8 1/2 X 11 paperback.
ISBN 9780768424447