Home
About Us
FAQ
Privacy Policy
Contact Us
Books
DVDs
VHS
Charts
Audio Books
General Information
Secure Order Form
Mail & Fax Orders
Shipping Rates

Mastercard
Visa, Discover
* * *
Phone Toll Free:
1-877-577-8743
within U.S.A.
* * *
International
1-336-246-2663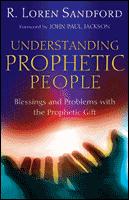 UNDERSTANDING PROPHETIC PEOPLE
Blessings and Problems with the Prophetic Gift
R. Loren Sandford, 2007



Scripture lists prophecy as one of five ministry gifts for the Church, but prophetically gifted people have the reputation for being difficult--sometimes impossible--to live and work with. Prophetic pastor Loren Sandford delves into the mysteries of this office, including: why prophets seem extreme and moody; how prophetic people hear from God; the difference between adrenaline and anointing; the four signs of a true prophet; how to pastor a prophetic person; how to recognize this gift in children. Prophets can learn to step out of loneliness and isolation into balance and wholeness. As they grow in this unique calling, the Body of Christ will indeed be blessed.

---
TABLE OF CONTENTS
Foreword
Introduction
Part 1 - Foundations
A Profile of the Prophetic Person
Prophetic Ministry: An Overview
What Prophetic Ministry Is Not
The Prophetic Task
The Prophet as Intercessor
The Office of Prophet

Part 2 - Hearing God

Mediation
Numbers 12: Visions and Dreams
The Voice of God

Part 3 - Training and Placement

The Necessity of Wilderness Sojourns
Sill Deeper in the Dark of Night of the Soul
Issues of Placement in the Church
---
AUTHOR PROFILE
R. LOREN SANDFORD, a graduate of Fuller Theological Seminary, is the founding pastor of New Song Fellowship, part of the Partners in Harvest family of churches. He is an international teacher and leader in the renewal.

---
BOOK SPECIFICATIONS
230 pages, paper.
ISBN 9780800794224