Home
About Us
FAQ
Privacy Policy
Contact Us
Books
DVDs
VHS
Charts
Audio Books
General Information
Secure Order Form
Mail & Fax Orders
Shipping Rates

Mastercard
Visa, Discover
* * *
Phone Toll Free:
1-877-577-8743
within U.S.A.
* * *
International
1-336-246-2663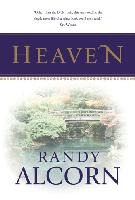 HEAVEN

Randy Alcorn, 2004



What will heaven be like? Randy Alcorn presents a thoroughly biblical answer, based on years of careful study, presented in an engaging, reader-friendly style. His conclusions will surprise readers and stretch their thinking about this important subject. Heaven will inspire readers to long for heaven while they're living on earth.

---
TABLE OF CONTENTS
Acknowledgments
Preface: About This Book
Introduction: The Subject of Heaven
PART I
A THEOLOGY OF HEAVEN

SECTION ONE
REALIZING OUR DESTINY

Are You Looking Forward to Heaven?
Is Heaven Beyond Our Imagination?
Is Heaven Our Default Destination... or Is Hell?
Can You Know You're Going to Heaven?

SECTION TWO
UNDERSTANDING THE PRESENT HEAVEN

What Is the Nature of the Present Heaven?
Is the Present Heaven a Physical Place?
What Is Life Like in the Present Heaven?

SECTION THREE
GRASPING REDEMPTION'S FAR REACH

This World Is Not Our Home... or Is It?
Why Is Earth's Redemption Essential to God's Plan?
What Will It Mean for the Curse to Be Lifted?

SECTION FOUR
ANTICIPATING RESURRECTION

Why Is Resurrection So Important?
Why Does All Creation Await Our Resurrection?
How Far-Reaching Is the Resurrection?

SECTION FIVE
SEEING THE EARTH RESTORED

Where and When Will Our Deliverance Come?
Will the Old Earth Be Destroyed... or Renewed?
Will the New Earth Be Familiar... like Home?

SECTION SIX
CELEBRATING OUR RELATIONSHIP WITH GOD

What Will It Mean to See God?
What Will It Mean for God to Dwell Among Us?
How Will We Worship God?

SECTION SEVEN
RULING ON THE NEW EARTH

What Does God's Eternal Kingdom Involve?
Will We Actually Rule with Christ?
How Will We Rule God's Kingdom?

PART II
QUESTIONS AND ANSWERS ABOUT HEAVEN

SECTION EIGHT
WHAT WILL THE RESURRECTED EARTH BE LIKE?

Will the New Earth Be an Edenic Paradise?
What Is the New Jerusalem?
What Will the Great City Be Like?
Will There Be Space and Time?
Will the New Earth Have Sun, Moon, Oceans, and Weather?

SECTION NINE
WHAT WILL OUR LIVES BE LIKE?

Will We Be Ourselves?
What Will Our Bodies Be Like?
Will We Eat and Drink on the New Earth?
Will We Be Capable of Sinning?
What Will We Know and Learn?
What Will Our Daily Lives Be Like?

SECTION TEN
WHAT WILL OUR RELATIONSHIPS BE LIKE?

Will We Desire Relationships with Anyone Except God?
Will There Be Marriage, Families, and Friendships?
Whom Will We Meet, and What Will We Experience Together?
How Will We Relate to Each Other?
What Will New Earth Society Be Like?

SECTION ELEVEN
WHAT ABOUT ANIMALS?

Will Animals Inhabit the New Earth?
Will Animals, Including Our Pets, Live Again?

SECTION TWELVE
WHAT WILL WE DO IN HEAVEN?

Will Heaven Ever Be Boring?
Will There Be Arts, Entertainment, and Sports?
Will Our Dreams Be Fulfilled and Missed Opportunities Regained?
Will We Design Crafts, Technology, and New Modes of Travel?

PART III
LIVING IN LIGHT OF HEAVEN

Reorienting Ourselves to Heaven as Our Home
Anticipating the Great Adventure

Appendix A - Christoplatonism's False Assumptions
Appendix B - Literal and Figurative Interpretation

Notes
Selected Bibliography
Scripture Index
Name Index
Subject Index
About the Author
---
AUTHOR PROFILE
Dr. Randy Alcorn is leading authority on Heaven. As the founder and director of Eternal Perspective Ministries (EPM), a nonprofit ministry devoted to promoting an eternal viewpoint and drawing attention to people in special need of advocacy and help, Randy has dedicated many years to the study of Heaven and eternity.
A pastor for fourteen years before founding EPM in 1990, Randy is a popular teacher and conference speaker. He has spoken in mnay countries and has been interviewed on more than 500 radio and television programs. Holding degrees in theology and biblical studies he has taught biblical interpretation, theology, and ethics on the adjunct faculties of Multnomah Bible College and Western Seminary in Portland, Oregon. He is the author of twenty-four books.
The father of two married daughters, Karina and Angela, Randy lives in Gresham, Oregon, with his wife and best friend, Nanci. He enjoys spending time with his family, biking, tennis, research, and reading.

---
BOOK SPECIFICATIONS
533 pages, hardback, bibliography, Scripture index, name index, subject index.
ISBN 9780842379427