Home
About Us
FAQ
Privacy Policy
Contact Us
Books
DVDs
VHS
Charts
Audio Books
General Information
Secure Order Form
Mail & Fax Orders
Shipping Rates

Mastercard
Visa, Discover
* * *
Phone Toll Free:
1-877-577-8743
within U.S.A.
* * *
International
1-336-246-2663
Products on this page deal with God's judgment and surviving the seven-year tribulation period.
---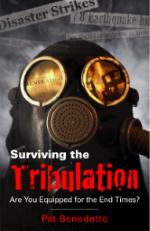 SURVIVING THE TRIBULATION
Are You Equipped for the End Times?

Pat Benedetto, 2015


$13.95
Retail $14.99
Ships within
24 hours!


Now is the time to be ready. The Tribulation will not be pleasant, but a necessary test that determines each person's eternal destiny. Surviving the Tribulation gives evidence for the authenticity of the Bible, describes the clear signs of the times, and relates the events of the Rapture and the Tribulation, including the Antichrist and the Second Coming of Jesus Christ. It uniquely includes practical strategies for surviving natural and manmade disasters, as well as methods for going the distance emotionally, mentally, physically, and spiritually during the difficult times in which we live. This book is for anyone who is curious about the end times or wondering what exactly is going on in the world today. Survivalists, "preppers," news junkies, Jews and Christians of all denominations, seekers of the Truth, and those in need of encouragement will benefit from this information. 206 pages, paperback.
More Information, Table of Contents, Author Profile
---
HURRICANE SA'AR
The Coming Storm of the Lord

Daniel S. King, 2015


$9.95
Retail $10.99
Ships within
24 hours!


When storms reach a certain level of intensity we have the practice of naming them. Some of those names, such as Andrew, Katrina, and Sandy take on historical significance and will never be forgotten. Jeremiah makes two almost identical statements regarding the "storm of the LORD." The first reference was to a storm coming in Jeremiah's day. The second one is about a storm that is yet to come. It is a future storm of biblical proportions. In studying these verses I came up with a name for these storms from the Hebrew text. That name is Hurricane Sa'ar. The Hebrew word for storm is sa'ar and it is called the storm of the LORD. His storms most definitely reach an intensity level worthy of being named! The first part of this book is about these two storms of the LORD, both the historic one of Jeremiah's day and the one that is yet to come. The second part of this book is an encouraging call for believers to be devoted to being close to the Lord. We must know His Word, His Voice, and His Heart. This is especially true if the second storm is on the horizon. 95 pages, paperback.
More Information, Table of Contents, Author Profile
---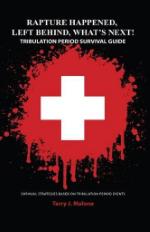 RAPTURE HAPPENED, LEFT BEHIND, WHAT'S NEXT!
Tribulation Period Survival Guide

Terry J. Malone, 2013


$12.95
Ships within
24 hours!


For several years, I have been researching various survival strategies that could be applied to the events of the tribulation period. This book is specifically written and designed around what will happen during this time period and how to prepare for these vents in advance. In this book, you will actually be provided practical help tips and strategies on how you can survive the tribulation period. You will learn that just building a basement shelter, storing mountains of food and water, medical supplies, and hunkering down for seven years is not only a poor survival strategy, but totally unrealistic for this time period. You will encounter various supernatural plagues, natural disasters, and wars that will claim the lives of the majority of the global population. Don't kid yourself, this will be a very dangerous and perilous time whether you know the Lord or not! The vast majority of people will die and without careful preparation that is tailored to the event of the tribulation period you will have little chance of surviving. This horrendous time period is coming and likely sooner than you think! 142 pages, paperback.
More Information, Table of Contents, Author Profile
---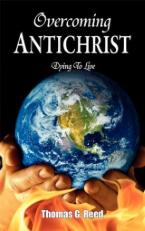 OVERCOMING ANTICHRIST
Dying To Live

Thomas G. Reed, 2012


$12.95
Ships within
24 hours!


The final days of human history bring with them the darkest days of history. This last seven-year period of great Tribulation is a time of extreme anguish and universal killings highlighted by the revealing and reign of the man of sin, Antichrist. In Overcoming Antichrist, we look at some of the mysteries of God regarding the end of time, even the presumed purposes of all the tragic faces and forces about to be released on this world, sinner and saint alike. For the saint, these are indeed the worst of times, as persecution and dying become the order of the day. In death, however, saints not only find a better life, but from a divine perspective and a godly purpose, they impact the Antichrist as others cannot, that is until the Son of God Himself appears and makes a full end of him at the Battle of Armageddon. 90 pages, paperback, bibliography. View: Post-Tribulation Rapture
More Information, Table of Contents, Author Profile
---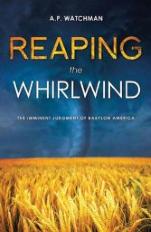 REAPING THE WHIRLWIND
The Imminent Judgment of Babylon America

A.P. Watchman, 2010


$19.95
Retail $20.99
Ships within
24 hours!


"Little children, it is the last hour…" So wrote the beloved apostle John. Two thousand years later we are living in the final moments of history. God's people are beginning to lift up their heads, knowing their redemption draws near. Where are we in the prophetic timetable? What momentous event of Bible prophecy will we witness next? Will America be judged before the rapture of the church? Reaping the Whirlwind begins with a primer on the nature of judgment and wrath. Through Jesus' eyes we see God as neither a harmless Teddy bear nor a vengeful tyrant, but as Agape, the Consuming Fire. We can then fearlessly examine the ancient prophesies about America. We can lay aside the popular fables that have lulled us to sleep. By casting aside false comfort, we are free to receive God's comfort, which stirs us up to love and good works. 366 pages, paperback, bibliography.
More Information, Table of Contents, Author Profile.
More Books on America in Prophecy

---
WHEN PROPHETS SPEAK OF JUDGMENT
Habakkuk, Zephaniah, Haggai

David M. Levy, 1998


$10.95
Ships within
24 hours!


How close are we to the final hour? Is our nation standing on the brink of judgment? While God never reveals the exact moment when He will pour out His wrath, He does reveal for us, in the Bible, the conditions that are sure to bring His judgment upon a nation and its people. Every one of these conditions—or sins—was rampant at the time Judah experienced horrible judgment at the hands of its enemies. What's incredible is that the very conditions that led to Judah's downfall are all present in America today! You can explore what these conditions are in David Levy's book, When Prophets Speak of Judgment. In this fascinating overview of the Bible books of Habakkuk, Zephaniah, and Haggai, you'll discover that the atrocities committed by ancient Judah are strikingly similar to what we read in the headlines of today's newspapers! When Prophets Speak of Judgment. is an encouraging challenge for us to "redeem the time" as we move ever closer to the last days! 190 pages, paperback.
More Information, Table of Contents, Author Profile
---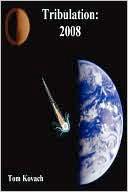 TRIBULATION: 2008 - Fourth Edition

Tom Kovach, 2009


$24.95
Ships within
24 hours!


The Tribulation - the seven-year period of persecution predicted in the Holy Bible - BEGAN on 29 September 2008 (the Feast of Trumpets). This book proves it. The 800 California wildfires in June of 2008 were a punishment from God. Why? What else will happen? Tom Kovach examines the Holy Bible through history, politics, military tactics, geography, and linguistics. This book shows that much of what modern Christians believe about prophecy is based upon wishful thinking, and not upon actual Bible language. It also shows that Jesus really is The Messiah, and He is coming back ... soon! Events are unfolding so quickly that this book went into a FOURTH Edition only six months after its initial release. Updates reflect the predicted election of Barack Obama, reveal likely terror-attack dates in 2009, and show why the government is pushing the D-TV conversion. 163 pages, paper. View: Mid-Tribulation Rapture
More Information, Table of Contents, Author Profile
More Books on the Mid-Tribulation Rapture
---
TRIBULATION: It's Not What You Think!

Monica Bennett-Ryan, 2007


$15.95
Ships within
24 hours!


Before 'Revelation' was written, Jesus explained the tribulation: "This is a time of punishment in fulfillment of all that is written." "I will not judge you, your judge is Moses…for he wrote about me." Luke 20:22 and John 15:5 The Book of Revelation is not supposed to be a hornet's nest of intrigue and conspiracy theories. It is not about Rome, 10 nations, the EEC, bankcard or microchips. It does not contain a rapture, a physical antichrist or a one-world government. It is not about politics in any way! The judgments of Tribulation fall on the earth, the trees, the sky, rivers, seas, grass, food and people. Particular nations and governments are not mentioned at all. So what is it really about? This book explores how the only punishment for sin, the judgment of the Law of Moses, is fulfilled as Christ predicted during the time known as The Great Tribulation. 211 pages, paper. View: Post-Tribulation
More Information, Table of Contents, Author Profile


---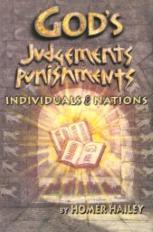 GOD'S JUDGEMENTS & PUNISHMENTS
Individuals & Nations
Homer Hailey, 2003


$12.95
Ships within
24 hours!


In the week following the infamy of September 11th, 2001, a second assault was launched--this time by two well-known televangelists who had the temerity to suggest that the terrorist attack on the United States bore the unmistakable imprint of God's own hand, bringing judgment against a morally rebellious and sinful nation. Naturally, a shocked and mourning "Christian nation" rejected out of hand so insensitive a conclusion. It is difficult enough to ask how God could even allow such hateful carnage to happen; but to go further and suggest that God, Himself, might have masterminded the heinous attack is unthinkable!... Or is it...? This book is a two-part study regarding God's eternal character and the character of His judgments on nations and individuals. 220 pages, paper, bibliography.
More Information, Table of Contents
More Books by Homer Hailey


---
THE HIDING PLACE - DVD
Jesus Returns as Warrior King Series Volume 2

J.D. Grush, 2012


$14.95
Ships within
24 hours!


J.D. Grush, Director of Discoveries of Destiny Ministry, tells the exciting prophetic story of how and where Jesus protects the Jewish Elect at Petra during the second half of the Tribulation Period. In the midst of the chaotic panic Jews are experiencing as they flee the deadly wrath of Antichrist, God miraculously intervenes to rescue His elect out of the clutches of the Man of Sin, taking them to a 'Hiding Place'. It is at this place where God will supernaturally protect them for the last 3 ½ years of history. This DVD ties in nicely with Volume 1 of this series, where Grush tells the story of how Jesus battles the Armies of Antichrist so He can protect the Jewish Remnant at Petra, while in this Volume 2, he tells the same story from the Jewish point of view. 83 minutes on DVD. Language: English. DVD Region Code 1 (U.S. & Canada)
---
I SAW THE TRIBULATION - DVD

Ken Peters, 2006


$30.00
Ships within
24 hours!


Ken Peters, a prophet of God, gives about 10,000 personal prophecies a year with extreme accuracy, and with signs following. Ken has just been released to tell two dreams given to him over 20 years ago. He also explains some events that have already come to pass and powerful sequential detailed entime world events--from judgment on the nations, to revival and unprecendented persecution. Ken gives clear direction for future preparation of God's people. 2 hours, 40 minutes. DVD Region Code 1.


---
I AM: A Prophetic Look at the End Time Events

Evangelist Don Randolph, 2006


$13.95
Ships within
24 hours!


Before God brought the Children of Israel out of the land of Egypt, He sent several Plagues upon Egypt to force Pharoah to "LET GOD'S PEOPLE GO." Those Plagues were types and shadows of the Plagues which are coming during the Tribulation period upon the people living on the earth at that time. I AM compares the Plagues that were poured out on Egypt in the book of Exodus to the Plagues that are going to be poured out during the Great Tribulation and the impact these Plagues will have on the World and the Church in the Last Days. To understand the Plagues in the last book of the Bible we must understand what those same Plagues represented in the first book of the Bible. The events that took place in the book of Exodus are keys to understanding those events John wrote about in the book of Revelation. 235 pages, paper.
More Information, Table of Contents, Author Profile
---
SHEKINAH PROPHECY: A Docu-Drama
Volume One

Michael S. Young, 2003


$13.95
Ships within
24 hours!


This is a docu-novel-drama that intertwines classic world history and Bible prophecy. The Shekinah Prophecy was written for those who know they will be LEFT BEHIND. It will serve as a road map during the Tribulation (Tanakh "Time of Jacob's Trouble"). It will prepare them for the 'War of the Worlds' and assist them from becoming deceived by the Antichrist. Illustrated with photographs and maps. 201 pages, paper.
More Information, Table of Contents, Author Profile
---
TOP | HOME
Copyright 2001-2017 by Cliffside Publishing House