Home
About Us
FAQ
Privacy Policy
Contact Us
Books
DVDs
VHS
Charts
Audio Books
General Information
Secure Order Form
Mail & Fax Orders
Shipping Rates

Mastercard
Visa, Discover
* * *
Phone Toll Free:
1-877-577-8743
within U.S.A.
* * *
International
1-336-246-2663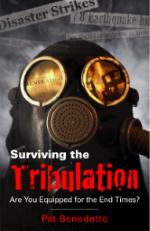 SURVIVING THE TRIBULATION
Are You Equipped for the End Times?

Pat Benedetto, 2015


$13.95
Retail $14.99
Ships within
24 hours!


Now is the time to be ready. The Tribulation will not be pleasant, but a necessary test that determines each person's eternal destiny. Surviving the Tribulation gives evidence for the authenticity of the Bible, describes the clear signs of the times, and relates the events of the Rapture and the Tribulation, including the Antichrist and the Second Coming of Jesus Christ. It uniquely includes practical strategies for surviving natural and manmade disasters, as well as methods for going the distance emotionally, mentally, physically, and spiritually during the difficult times in which we live. This book is for anyone who is curious about the end times or wondering what exactly is going on in the world today. Survivalists, "preppers," news junkies, Jews and Christians of all denominations, seekers of the Truth, and those in need of encouragement will benefit from this information.

---
TABLE OF CONTENTS (Abridged)
Introduction
The Master Plan
Basis of Truth
Signs of the Times
The Rapture
The Tribulation
From the Kingdom to Eternity
To Die or Not to Die? That is the Question
Spiritual Warfare
Basic Survival Strategies
Practical Concerns
Natural Catastrophes
Man-Made Catastrophies
A Mighty Fortress
A. The Gospel
B. Prayer of Salvation
C. Fear Not Affirmations
D. Exodus Pack Checklist
E. Outfitting a Homestead
Acknowledgments
About the Author
Endnotes

---
AUTHOR PROFILES
Pat Benedetto graduated from Taylor Business Institute in New York City, then worked as an editor's assistant before moving to Florida and working in the graphic arts field. She currently manages the graphics department of a large financial corporation. Pat is married to her childhood sweetheart, Vincent, with two happily married children. They attend Calvary Chapel. Pat has a lifelong passion for God and for eschatology, and she spends her free time looking up!

---
BOOK SPECIFICATIONS
206 pages, paperback.
ISBN 9781940269405