Home
About Us
FAQ
Privacy Policy
Contact Us
Books
DVDs
VHS
Charts
Audio Books
General Information
Secure Order Form
Mail & Fax Orders
Shipping Rates

Mastercard
Visa, Discover
* * *
Phone Toll Free:
1-877-577-8743
within U.S.A.
* * *
International
1-336-246-2663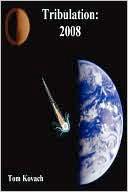 TRIBULATION: 2008 - Fourth Edition

Tom Kovach, 2009



The Tribulation - the seven-year period of persecution predicted in the Holy Bible - BEGAN on 29 September 2008 (the Feast of Trumpets). This book proves it. The 800 California wildfires in June of 2008 were a punishment from God. Why? What else will happen? Tom Kovach examines the Holy Bible through history, politics, military tactics, geography, and linguistics. This book shows that much of what modern Christians believe about prophecy is based upon wishful thinking, and not upon actual Bible language. It also shows that Jesus really is The Messiah, and He is coming back ... soon! Events are unfolding so quickly that this book went into a FOURTH Edition only six months after its initial release. Updates reflect the predicted election of Barack Obama, reveal likely terror-attack dates in 2009, and show why the government is pushing the D-TV conversion.

---
TABLE OF CONTENTS
Introduction
The meanings of things
Out of time
Up from the depths
Unfinished business
Afterword (includes notes on updated material)
About the Author

---
AUTHOR PROFILE
Tom Kovach lives near Nashville and is a former USAF Blue Beret. He is also an inventor, a horse wrangler, a certified paralegal, and a former network talk-show host. Tom has also run for Congress. Via the 1SG Agency, Tom is available to speak to your group. To learn more, visit: TomKovach.US.

---
BOOK SPECIFICATIONS
163 pages, paper
ISBN: 9780578014173