Home
About Us
FAQ
Privacy Policy
Contact Us
Books
DVDs
VHS
Charts
Audio Books
General Information
Secure Order Form
Mail & Fax Orders
Shipping Rates

Mastercard
Visa, Discover
* * *
Phone Toll Free:
1-877-577-8743
within U.S.A.
* * *
International
1-336-246-2663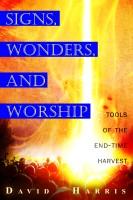 SIGNS, WONDERS, AND WORSHIP
Tools of the End-Time Harvest

David Harris, 2007



God will move more powerfully than ever before in these last days to possess a great harvest in every nation. Regional altars of perpetual worship and prayer will be established and national outpourings of revival will follow worldwide. We will not be a whimpering, frightened Church suffering the evils of Armageddon and the anti-Christ terrors. We will be leading the way with worship, reaping the end-times harvest with miracles, signs, and wonders! Scripturally sound, the author walks you through a powerful revival scenario of the Great Day of the Lord which is now upon us. Signs, Wonders and Worship explores:
Continuing reformation of the church.
Restoration of the tabernacle of David.
End-time prophetic significance of the numbers 7 and 3.
God's selection of worship warriors.
Exciting landmarks of redemption history.
Get ready - the Groom is readying Himself for you, His Bride!

---
TABLE OF CONTENTS
Foreword
Preface
Introduction
Harvest at Gate Beautiful
The Restoration of the Tabernacle of David
Divide the House to Multiply the House
The Army of Gideon
A Storm Named Mercy
Worship and the Word
Rainmaker, Hosanna
Landmarks of Redemptive History
The Day of the Lord
Revelation of the Bride and the Groom
Summary Prayer
Study Guide
Chronological Chart
Endnotes
Glossary of Definitions
Index
Ministry Contact Information

---
AUTHOR PROFILE
David Harris has been teaching the Word of God through out North America for more than a decade. David and Judith Harris, founders of Shekinah Ministries, are ordained with International Apostolic Ministries under founder Wayne C. Anderson. The mandate of Shekinah Ministries is to break open the heavens with prophetic and radical warfare worship, and prepare the way for miracles, signs, and wonders.

---
BOOK SPECIFICATIONS
171 pages, paper, glossary, index.
ISBN 9780768425055