Home
About Us
FAQ
Privacy Policy
Contact Us
Books
DVDs
VHS
Charts
Audio Books
General Information
Secure Order Form
Mail & Fax Orders
Shipping Rates

Mastercard
Visa, Discover
* * *
Phone Toll Free:
1-877-577-8743
within U.S.A.
* * *
International
1-336-246-2663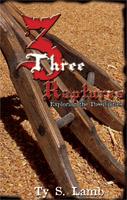 THREE RAPTURES: Exploring the Possibilities

Ty S. Lamb, 2007



We already realize there is much more to God's word than meets the eye. What if we haven't seen all there is to see about end time events because of our preconceived notions? What if our presuppositions have been skewed regarding God's objectives through the book of Revelation? Perphaps it is time to press through the confines of former doctrine and explore a few more questions: What if there were three raptures? Does the scenario fit? Is it theologically sound? What are the implications?

---
TABLE OF CONTENTS
Dedication
From the Author
Introduction
A Word About Biblical Prophecy
One Last Thing Before We Get Started
Definitions and Concepts
Is the Rapture Biblical?
Timing of the Rapture
Exploring the Key Scriptures
Theology of Three
The Progression of the Seven Churches
The Three Harvests and Three Feasts
The Three Virtues
Finding the Rapture in Revelation
Putting It All Together
Tribulation Gold
Who Will Be Raptured?
Signs of the Times
Problems with the Theory
Appendix
Index to Graphics
About the Author

---
AUTHOR PROFILE
Ty S. Lamb, has an agricultural background in Arizona and received his B.A. in Pastoral Ministry from Arizona College of the Bible in 1997. He graduated with High Honors and was the recipient of two scholarships. Ty has a wide range of ministry experience. He ministers in the prophetic and the anointing of the Holy Spirit. He has had a ministry of preaching, teaching and deliverance counseling for the past 15 years. He now speaks, writes and leads a small team of prayer intercessors who travel all over America. His wife Debbie, of 27 years, has a M.S. from Southern Christian University and ministers in Christian counseling and therapy. They have three adult children and reside in Arizona.

---
BOOK SPECIFICATIONS
404 pages, paper, appendix, illustrated.
ISBN: 9781604770889