Home
About Us
FAQ
Privacy Policy
Contact Us
Books
DVDs
VHS
Charts
Audio Books
General Information
Secure Order Form
Mail & Fax Orders
Shipping Rates

Mastercard
Visa, Discover
* * *
Phone Toll Free:
1-877-577-8743
within U.S.A.
* * *
International
1-336-246-2663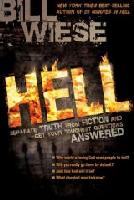 HELL

Bill Wiese, 2008



In September of 1998, God allowed Bill Wiese to experience the reality of hell. He chronicled his experiences in his New York Times best-selling book, 23 Minutes in Hell, describing a place of never-ending trauma, burning fire, and unquenchable thirst; a place where you are hopelessly lost and without human intervention forever. In his follow-up book, Hell, Wiese digs even deeper into the topic, providing a complete and ready reference on what hell is really like. Tackling your most common--and most important--questions head-on, he supplements his personal testimony with thorough biblical research and fascinating additional stories.

---
TABLE OF CONTENTS
Introduction
PART ONE
Age-Old Questions--Are There Answers?
How Can a Loving God Send People to Hell?
Am I Good Enough to Enter Heaven?
Can't God Just Overlook My Sins?
But God Knows My Heart!
Why did God Create Such a Horrible Place?
Does the Crime Fit the Punishment?
Hell by Default
How Does God Warn Us?
We Wouldn't Want to Offend Anyone
What Makes Christianity Unique?
How Can a Christian See Hell?
Expounding on 23 Minutes in Hell.
Why Does a Christian Need to Know About Hell?
"Are You In, or Are You Out?--a True Story
True Stories and Testimonies

PART TWO

An Overall Perspective
Hell, Hades, Sheol, Gehenna--What Is the Difference?
Is the Fire Real or Metaphorical?
Who Were the "Spirits in Prison"?
What Is the Significance of the Number 23?
Who Were the "Captivity Captive"?
Demons and Fallen Angels--Is There a Difference?
Are Satan and His Demons on the Earth and in Sheol?
Does the Devil Rule Over Hell?
How Can Demons Torment When They Are in Torment?
Were the Giants a Result of the Fallen Angels?
Was It Really Samuel?
What Is Soul Sleep?
Do People in Hell "Cease to Exist"?--Annihilationism
Are People Eventually Saved Out of Hell?--Universalism
What Is "Born Again"?
Appendix A: Jesus Speaks on Hell and Destruction--Forty six Verses
Appendix B: Jesus Said He Was the Son of God
Appendix C: All Verses on Hell and Destruction
Notes
Bibliography

---
AUTHOR PROFILE
BILL WIESE is the New York Times best-selling author of 23 Minutes in Hell. A dedicated Christian since 1970, he has served in various capacities, including teaching and leading worship. He is an accomplished speaker and has appeared on numerous television and radio shows. He lives with his wife, Annette, in Southern California.

---
BOOK SPECIFICATIONS
352 pages, paper, appendix, bibliography.
ISBN 9781599793399