Home
About Us
FAQ
Privacy Policy
Contact Us
Books
DVDs
VHS
Charts
Audio Books
General Information
Secure Order Form
Mail & Fax Orders
Shipping Rates

Mastercard
Visa, Discover
* * *
Phone Toll Free:
1-877-577-8743
within U.S.A.
* * *
International
1-336-246-2663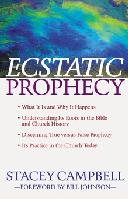 ECSTATIC PROPHECY

Stacey Campbell with Wesley Campbell, 2008



Ecstatic prophecy is a form of prophecy in which the prophet is completely overtaken by the Holy Spirit--body, soul, and spirit--and prophesies almost as an oracle. In Ecstatic Prophecy, Stacey Campbell, a respected teacher and regular and high-profile recipient of this gift, explains the ins and outs of this remarkable mode of prophecy. She takes readers through biblical and early church examples of ecstatic prophecy and uncovers the history of its occurrence until modern times. She also examines how those with this gift can mature in it, avoid deception by testing spirits, and use this method of prophesying to grow closer to God and to reveal Jesus.

---
TABLE OF CONTENTS
Foreword
Preface
Acknowledgments
Introduction
Part 1 All about Ecstatic Prophecy

Inside the World of Ecstatic Prophecy
The Universality of Ecstatic Prophecy
Ecstatic Prophecy Is Biblical
Biblical Ecstasy and the Consciousness of the Prophet
Ecstasy--The Ways of God and the Mind of Man
Can Ecstasy Be Controlled or Induced?
Ecstatic Prophecy in Church History

Part 2 Judging and Applying Ecstatic Prophecy

Discerning the Spiritual Source
Prophets and Character
Ecstasy in the Assembly--How to Function

Part 3 Developing the Inner Life of the Prophet

Prophesy According to Faith
Prophesy in Love
Prophesy in Unity

Part 4 Where Is Ecstatic Prophecy Headed?

Prophetic, Cross-cultural Evangelism
The Coming Global Revival
Notes
Selected Bibliography
Scripture Index
Subject Index

---
AUTHOR PROFILE
Stacey Campbell, cofounder of the nonprofit organization Be A Hero, is founder and facilitator of the Canadian Prophetic Council and serves as a lifetime honorary member of the Apostolic Council of Prophetic Elders, presided over by C. Peter Wagner. She also serves on the leadership team of The Call with Lou Engle, is often featured on Elijah List, and speaks widely on prophetic issues. She lives with her husband, Wesley, and their five children in British Columbia, Canada.

---
BOOK SPECIFICATIONS
252 pages, paper, bibliography, Scripture index, subject index.
ISBN 9780800794491