Home
About Us
FAQ
Privacy Policy
Contact Us
Books
DVDs
VHS
Charts
Audio Books
General Information
Secure Order Form
Mail & Fax Orders
Shipping Rates

Mastercard
Visa, Discover
* * *
Phone Toll Free:
1-877-577-8743
within U.S.A.
* * *
International
1-336-246-2663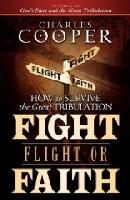 FIGHT, FLIGHT, OR FAITH
How to Survive the Great Tribulation

Dr. Charles Cooper, 2009


$32.95
Ships within
24 hours!


What if God calls upon us to be the final generation to face the Antichrist? Should you fight against him? Should you flee to safety? Or should you stand in faith? In Fight, Flight, or Faith: How to Survive the Great Tribulation, Charles Cooper answers that question. Cooper concludes that physical resistance will prove futile and that modern technology makes hiding impossible. Thus, the answer, he says, is faith. But how much faith will be required? Will you have enough?

---
TABLE OF CONTENTS
Preface
Introduction
SURVIVAL OPTIONS: FIGHT, FLIGHT, OR FAITH
FIGHT: A PROBLEM OF BIBLICAL CONTRADICTIONS
FLIGHT: THE PROBLEM OF LOGISTICS
FAITH: MODELS OF THOSE WHO SHED BLOOD FOR CHRIST
PLAN B: AN EASY WAY TO SURVIVE
FAITH: WHAT IS IT?
FAITH: DOES IT HAVE DEGREES?
FAITH VERSUS A LACK OF HISTORY
FAITH: A CHARACTERIZATION
Conclusion

---
AUTHOR PROFILE
CHARLES COOPER is a pastor, lecturer, writer, and director of the Prewrath Resource Institute. He is the author of numerous articles, booklets, and God's Elect and the Great Tribulation: An Exposition of Matthew 24:1-31 and Daniel 9. Cooper is a 1986 graduate of Dallas Theological Seminary.

---
BOOK SPECIFICATIONS
252 pages, paper.
ISBN 9780981527635