Home
About Us
FAQ
Privacy Policy
Contact Us
Books
DVDs
VHS
Charts
Audio Books
General Information
Secure Order Form
Mail & Fax Orders
Shipping Rates

Mastercard
Visa, Discover
* * *
Phone Toll Free:
1-877-577-8743
within U.S.A.
* * *
International
1-336-246-2663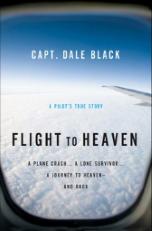 FLIGHT TO HEAVEN
A Plane Crash... A Lone Survivor... A Journey to Heaven - and Back

Capt. Dale Black, 2010



Capt. Dale Black has flown as a commercial pilot all over the world, but one flight changed his life forever--an amazing journey to heaven and back. The only survivor of a horrific plane crash, Dale was hovering between life and death when he had a wondrous experience of heaven. What he saw, what he heard, and what he learned there continues to ripple through his life and touch others. Against all odds, Dale miraculously recovered from his injuries and learned to fly again. Now, with his life as a testament, he shares his inspiring story--offering hope and encouragement for those dealing with serious injuries or the loss of a loved one, and those looking for assurance about this life and the next.

---
TABLE OF CONTENTS
Acknowledgments
Prologue
Flight Into Eternity
Portal of the Folded Wings
At the Edge of Death
New Eyes for a New Dimension
Under His Wings
Shrine to Aviation
Destined for the Sky
Secret Place of the Most High
Fear and Memory Loss
A Future and a Hope
Surviving the Unsurvivable
Good News and Bad News
From Horrific to Heavenly
Journey to Heaven
Celestial Perfection
Ask and Receive
Losing Life to Find It
On Wings Like Eagles
Anniversary Surprise
Invisible City
Adventures of Faith
Afterword
How This Book Came About
About the Author

---
AUTHOR PROFILES
Capt. Dale Black is a retired airline pilot who dedicated his career to improving aviation safety. He has flown for over 40 years with more than 17,000 hours in a variety of commercial jets. Dale is still an active aviator and is co-owner of a real estate company. He has also been a Bible teacher, a television and radio show host, evangelist, and volunteer missionary pilot in over 50 countries. Dale and his wife, Paula, are parents of two grown children and live in Southern California.

---
BOOK SPECIFICATIONS
187 pages, paperback.
ISBN 9780764207945