Home
About Us
FAQ
Privacy Policy
Contact Us
Books
DVDs
VHS
Charts
Audio Books
General Information
Secure Order Form
Mail & Fax Orders
Shipping Rates

Mastercard
Visa, Discover
* * *
Phone Toll Free:
1-877-577-8743
within U.S.A.
* * *
International
1-336-246-2663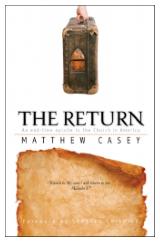 THE RETURN: An End-Tim Epistle to the Church in America

Matthew J. Casey, 2010



The time of the last great shaking has begun... and God is both wooing and warning His Church to RETURN to Him. With the heart of a shepherd and the unction of a prophet, Matthew Casey offers this loving but urgent call for genuine, Biblical revival in the American Church. From pulpit to pew, he shows the path of RETURN - to our first love for Christ, to the purity and power of the Spirit in our lives and fellowships, and to our God-ordained place of authority and righteous influence in our nation and throughout the world. This book will rekindle your passion for Christ, refresh your love for His Church, renew your burden for the lost, and revive your vision for how you can be a vessel of God's love and power in these Last Days. Read prayerfully... and expect to be changed.

---
TABLE OF CONTENTS
Foreword: If God Should Speak
Introduction: A Call to Return
The Time of Shaking Has Begun
Missing: The Presence of God
American Worship: Twin Tragedies
America: The Compromised Church
New Cross, No Cross
Purpose or Passion?
Cheap Grace, Easy Believism, and Self-love
Warning: An Emergent-C in the Church
Of Shepherds and Kings
God's Plan for a Glorious Church
Satan's Agenda for Our Nation
God's Promises for the Last Days' Church
A Word to the Weary
Going Deeper: Heart-Probing Questions on the Road of Return

---
AUTHOR PROFILE
Matthew Casey is a pastor who possesses both a shepherd's heart and a prophetic unction, expressed in a deep passion for revival. His ministry experience includes Bible teaching and preaching, writing and siscipleship, church planting and missions, extensive worship and music ministry, including radio and television. As an accomplished singer and songwriter, Matthew's worship songs have gained favor in various nations. He and his family reside in Portland, Oregon, where he serves as a pastor.

---
BOOK SPECIFICATIONS
128 pages, paperback.
ISBN: 9780971842854