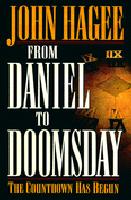 FROM DANIEL TO DOOMSDAY
The Countdown Has Begun

John Hagee, 1999



Hagee's most complete end-times book yet! As if carefully weighing each tick of a clock, he systematically counts down the prophetic events leading to Christ's second coming---showing you the signs to watch for. Financial crisis on Wall Street is just one of the indicators he reveals through Scripture and media information as a sign of the end.

In his most provocative and comprehensive book about end times, Dr. John Hagee counts down the prophetic minutes from the time of Daniel through the twentieth century. While Wall Street revels in economic euphoria and proclaims that all is well, From Daniel to Doomsday reports on the rumblings of the coming Rapture in such current world events as:
The collapse of the Asian and Pacific Rim economies.
The imminent Y2K crisis.
The expanding threat of cyber terrorism and germ warfare.
The continuing moral decay among national leaders.
The devaluing of human life through the practice of abortion.
The Day of Apocalypse. The End of the World. Call it what you will, but with the new millennium, people's thoughts have turned toward Christ's final reckoning. From Daniel to Doomsday not only interprets the times, but also unveils what has yet to occur before that fateful moment when every unredeemed individual must face God on Judgment Day.

---
TABLE OF CONTENTS
Introduction
Chapter 1-11:50 p.m.
Daniel Paints the Panorama of Prophecy
Chapter 2-11:51 p.m.
Messiah the Prince Enters Jerusalem
Chapter 3-11:52 p.m.
And Knowledge Shall Increase
Chapter 4-11:53 p.m.
Deliverance from Doomsday-the Rapture
Chapter 5-11:54 p.m.
Russia Invades Israel
Chapter 6-11:55 p.m.
The Time of Tribulation Begins
Chapter 7-11:56 p.m.
For Then Shall Come Great Tribulation
Chapter 8-11:57 p.m.
Inching Toward Armageddon
Chapter 9-11:58 p.m.
The Millennium Dawns
Chapter 10-11:59 p.m.
The Earth's Final Conflict
Chapter 11-Midnight
Doomsday at the Great White Throne
Chapter 12-Eternity
Heaven and Earth Reborn!
Notes

---
AUTHOR PROFILE
Dr. John Hagee, author of the bestsellers Beginning of the end, Day of Deception, and Final Dawn Over Jerusalem, is the founder and senior pastor of the seventeen-thousand-member Cornerstone Church in San Antonio, Texas. He is the president of Global Evangelism Television, which broadcasts Pastor Hagee's daily and weekly programs on television and radio throughout the United States and throughout the world. John and his wife, Diana, have five children: Tish, Christopher, Christina, Matt, and Sandy.
---
BOOK SPECIFICATIONS
285 pages, paper
ISBN 0785268189