Home
About Us
FAQ
Privacy Policy
Contact Us
Books
DVDs
VHS
Charts
Audio Books
General Information
Secure Order Form
Mail & Fax Orders
Shipping Rates

Mastercard
Visa, Discover
* * *
Phone Toll Free:
1-877-577-8743
within U.S.A.
* * *
International
1-336-246-2663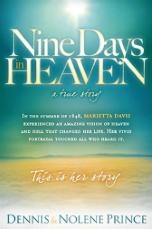 NINE DAYS IN HEAVEN
A True Story

Dennis & Nolene Prince, 2011



Just over one hundred fifty years ago, in Berlin, New York, twenty-five-year-old Marietta Davis suddenly fell into an unconscious state, from which neither family nor physician could arouse her. When she finally regained consciousness, she described with almost supernatural perception how angels had escored her spirit to heaven and hell. Her vision made her the talk of her community and a legend for generations to come. Nine Days in Heaven brings the story of Marietta Davis to a new generation of readers. The nineteenth-century language of the original has been updated for readability, but the detailed portrayal of her vision remains intact.

---
TABLE OF CONTENTS
Preface
Introduction
The Angel of Peace
Death's Gateway
Welcome in Heaven
First Lessons and Warnings
The Boy Who Was Raised in Heaven
Heaven's Architecture
Conflicts in Hell
Despair of the Lost
The Intellectual, the False Teacher, and the Heartless Worshipers
Escape From Hell and Lessons Learned
The Music of Heaven and the Separation
Infant Instruction--the Lost Man
The Bethlehem Story
The Justice-Mercy Conflict
The Judas Betrayal
Jesus the Ransom Must Suffer
Apollyon
The Dream of Pilate's Wife
The Way of the Cross
The Thirty Pieces of Silver
Calvary
Death Defeated
He Is Risen!
The Lost Man Rescued
Return to Earth
Appendix A: Original Testimonials
Appendix B: Infant Paradise
Appendix C: What Happens When You Die?

---
AUTHOR PROFILES
Dennis Prince, after working for six years as a lecturer in civil engineering, attended Bible college and in 1976 was co-planter of the thriving Kingston City Church in Melbourne, Australia. Today he concentrates on Bible teaching and writing.
Nolene Prince earned a bachelor's degree in music, specializing in singing, and after teaching school music also attended Bible college. After the loss of their two babies, the Princes rewrote this old story in modern English to share with others the encouragement they received from its revelations. They live in Melbourne and have three married children and nine grandchildren.

---
BOOK SPECIFICATIONS
220 pages, paperback, appendix.
ISBN 9781616382087