Home
About Us
FAQ
Privacy Policy
Contact Us
Books
DVDs
VHS
Charts
Audio Books
General Information
Secure Order Form
Mail & Fax Orders
Shipping Rates

Mastercard
Visa, Discover
* * *
Phone Toll Free:
1-877-577-8743
within U.S.A.
* * *
International
1-336-246-2663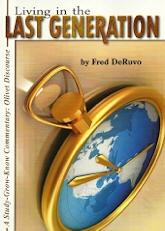 LIVING IN THE LAST GENERATION

Fred DeRuvo, 2011



We hear all the time how bad things are getting throughout the world. Many seem unable or unwilling to see it. Do we chalk it all up to being the normal cycles that occur in life, or is something else going on behind the scenes? What if this generation alive now turns out to be the last one before Jesus returns? Is that all just a bunch of hogwash, or is there any truth at all to the claim that Jesus will return one day? In this book, author and speaker Fred DeRuvo goes through the process of determining what if anything the Bible actually has to say on this subject. If you are one who has not taken the time to read through some of the books of the Bible that are said to teach truths regarding the last days, DeRuvo puts it out there in a straightforward manner, making it easy to understand. View: Premillennial, Pre-Tribulation.

---
TABLE OF CONTENTS
Foreword
Olivet Discourse
Three Questions
Birth Pangs
After the Birth Pangs
It's an Abomination!
Run Away! Flee!
Inside North Korea
Hell Breaks Loose
A Break in the Action
No Guessing Please
Hypocrisy
What About You?
---
AUTHOR PROFILE
Dr. Fred DeRuvo is the author of numerous articles and a growing number of books related to religious studies. Fred received his Bachelor's degree from Philadelphia College of Bible (now Philadelphia Biblical University), and his Masters from Tyndale Theological Seminary. Fred is also ordained, has his D.Div (Cambridge Theological Seminary in Cambridge, OH), and his D.Th from Northwestern Theological Seminary in Florida. Fred also enjoys the hobby of building and painting model kits and riding his Suzuki Marauder 1600cc. Fred is also involved in jail ministry as a volunteer chaplain. He endeavors to share the good news of Christís life, death and resurrection, which was the fully accepted atonement for sinful humanity, in order that we might become Godís adopted children.

---
BOOK SPECIFICATIONS
132 pages, paperback (7" X 10"), illustrated.
ISBN 9780977424405