Home
About Us
FAQ
Privacy Policy
Contact Us
Books
DVDs
VHS
Charts
Audio Books
General Information
Secure Order Form
Mail & Fax Orders
Shipping Rates

Mastercard
Visa, Discover
* * *
Phone Toll Free:
1-877-577-8743
within U.S.A.
* * *
International
1-336-246-2663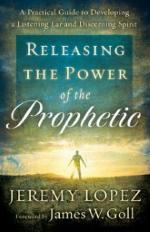 RELEASING THE POWER OF THE PROPHETIC
A Practical Guide to Developing a Listening Ear and Discerning Spirit

Jeremy Lopez, 2011



All believers have access to God's gift of prophecy, yet this is one of the most confusing and misunderstood topics in the Church. Questions such as Who can prophesy? and How do I receive a word? stop believers from stepping out in the adventure of faith that comes from hearing and speaking God's words. In this down-to-earth, accessible guide, international prophetic leader Jeremy Lopez shows you how to exercise God's gift of prophecy. He lays the biblical foundation for prophecy and offers insight and answers for understanding all things prophetic, showing you how to: tune in to God's voice; know the difference between a right and wrong word; develop and mature your prophetic gifting; give and receive words from the Lord. This is the essential handbook for all who long to move in the power of the prophetic.

---
TABLE OF CONTENTS
Foreword by Dr. James W. Goll
Preface
Acknowledgments
"You Want Me to Say What???"
We Must Shift This Hour
The Prophetic Office: The Flow of the Prophet
Prophetic Roles for the Prophet!
The Prophet As Seer
Giving Birth to Your Prophetic Word
Right Word or Wrong Word?
The Difference Between a Prophet and a Psychic
Prophesy to Your Situation!
Hearing God for Yourself
Interpreting Prophecy
The Power of the Prophetic Word
Stand on the Word God Gave You!
---
AUTHOR PROFILE
Jeremy Lopez, DD, is founder and president of Identity Network International, an apostolic and prophetic resource website that reaches more than 150,000 people around the globe and distributes books and teaching CDs. An international teacher, he serves on many governing boards and speaks to leaders across the nation and the globe. He lives in Birmingham, Alabama.

---
BOOK SPECIFICATIONS
144 pages, paperback.
ISBN 9780800795214