Home
About Us
FAQ
Privacy Policy
Contact Us
Books
DVDs
VHS
Charts
Audio Books
General Information
Secure Order Form
Mail & Fax Orders
Shipping Rates

Mastercard
Visa, Discover
* * *
Phone Toll Free:
1-877-577-8743
within U.S.A.
* * *
International
1-336-246-2663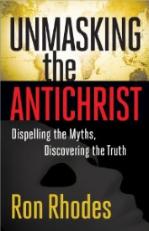 UNMASKING THE ANTICHRIST
Dispelling the Myths, Discovering the Truth

Ron Rhodes, 2012



The identity of the Antichrist is a topic of hot debate today. Adding fuel to the flame of rampant speculation are voices saying the Antichrist might be a Muslim or a Jew—a view that respected Bible scholar and bestselling author Ron Rhodes argues against in this revealing, Scripture-based exploration of:
What God's Word does and does not tell us about the Antichrist
The advance signs, power moves, and eventual fall of this person
The mysterious "Gog"—leader of Northern military coalition mentioned in Ezekiel
It is time for a trustworthy study of this topic to take the place of emotion-based suspicions. Believers, followers of end-times news, and anyone anxiously watching the turmoil of today's political landscape will be thankful for this thorough, straightforward resource. Excellent for church and personal libraries.

---
TABLE OF CONTENTS
Introduction: Rising Interest in the Emergence of the Antichrist
A Road Map of the End Times:
Notable Events and Personalities
Differing Concepts of the Antichrist
Historical Identifications of the Antichrist
Understanding Our Terms
Is the Antichrist a Muslim?
Is the Antichrist a Jew?
Is the Antichrist "God"?
Foreshadowing the Antichrist
The Restrainer of the Antichrist
The 70 Weeks of Daniel
The Character of the Antichrist
Names and Titles of the Antichrist
The Role of Satan
The Death and Resurrection of the Antichrist
The Role of the False Prophet
The Antichrist and God's Two Witnesses
The Mark of the Beast
The Defeat and Doom of the Antichrist
Is the Antichrist Alive Today?
Frequently Asked Questions About the Antichrist
Postscript: Fearless Living
Appendix: If You Are Not a Christian
Bibliography
Notes

---
AUTHOR PROFILE
Ron Rhodes, president of Reasoning from the Scriptures Ministries, is heard regularly on nationwide radio and is the author of The Coming Oil Storm and The Topical Handbook of Bible Prophecy. He holds ThM and ThD degrees from Dallas Theological Seminary, where he now teaches.

---
BOOK SPECIFICATIONS
249 pages, paperback, appendix, bibliography.
ISBN 9780736928502