Home
About Us
FAQ
Privacy Policy
Contact Us
Books
DVDs
VHS
Charts
Audio Books
General Information
Secure Order Form
Mail & Fax Orders
Shipping Rates

Mastercard
Visa, Discover
* * *
Phone Toll Free:
1-877-577-8743
within U.S.A.
* * *
International
1-336-246-2663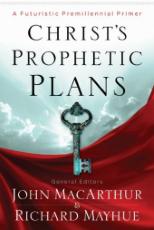 CHRIST'S PROPHETIC PLANS
A Futuristic Premillennial Primer

John MacArthur & Richard Mayhue, general editors, 2012



Do you wish you clearly understood the different views of the millenium and know why you believe which view you hold to? General editors and experienced bible scholars John MacArthur and Richard Mayhue help to provide a clear and convincing Biblical explanation for the interpretive approach to Scripture that results in a knowable futuristic view of Christ's millennial reign on earth. Christ's Prophetic Plans also helps provide the certain validity of God's promises to future Israel, and the crucial differences between Israel (as a people and a nation) and the New Testament church.

Christ's Prophetic Plans offers the reader John MacArthur's most explicit writing on eschatology and is perfect for pastors, bible professors, teachers, and students with a heart and mind for discovering Biblical truth. This primer takes you on a Biblical study of questions surrounding prophecy, Israel, the rapture, and the different millennial views. The fruit of such study is great as God specifically promises His blessing on those who know and obey the things of biblical prophecy (Revelation 1:3; 22:7).

---
TABLE OF CONTENTS
Preface
John MacArthur
Futuristic Premillennialism Chart
Richard Mayhue
Introduction - Why Study Prophecy?
Richard Mayhue
What Is Dispensationalism?
Michael Vlach
What Is Dispensationalism Not?
Michael Vlach
Why Futuristic Premilennialism?
Richard Mayhue
Why a Pretribulation Rapture?
Richard Mayhue
What about Israel?
Michael Vlach
What about Revelation 20?
Matthew Waymeyer
Does Calvinism Lead to Futuristic Premillennialism?
John MacArthur
Does the New Testament Reject Futuristic Premillennialism?
John MacArthur
Did the Early Church Believe in a Literal Millennial Kingdom?
Nathan Busenitz
How Certain Is Futuristic Premillennialism?
John MacArthur
Recommended Resources
Glossary
Scripture Index

---
EDITOR PROFILES
JOHN MACARTHUR is pastor-teacher of Grace Community Church in Sun Valley, California, author, conference speaker, president of The Master's College and Seminary, and featured teacher with Grace to You, an international radio broadcast. His more than six dozen books have sold millions of copies worldwide and include The MacArthur New Testament Commentary series and The MacArthur Study Bible.
RICHARD MAYHUE is the executive vice president and dean and professor of theology and pastoral ministries of The Master's Seminary. Before attending seminary, Dr. Mayhue served with the United States Navy from 1966 to 1971. Dr. Mayhue has authored, contributed to, and/or edited more than twenty-five books.

---
BOOK SPECIFICATIONS
220 pages, paperback, glossary, Scripture index.
ISBN 9780802401618