Home
About Us
FAQ
Privacy Policy
Contact Us
Books
DVDs
VHS
Charts
Audio Books
General Information
Secure Order Form
Mail & Fax Orders
Shipping Rates

Mastercard
Visa, Discover
* * *
Phone Toll Free:
1-877-577-8743
within U.S.A.
* * *
International
1-336-246-2663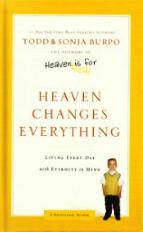 HEAVEN CHANGES EVERYTHING
Living Evry Day with Eternity in Mind
A Devotional Reader

Todd & Sonja Burpo, 2012



Todd and Sonja Burpo's almost-four-year-old son Colton made an unforgettabel trip to heaven and back during the darkest, most-stressed-out days of their lives. Times were tough, money was scarce, and the bills, frustrations, and fears were piled high. The story of Colton's visit to heaven changed their lives–and the book they wrote about it, Heaven Is for Real, gave new hope to millions of readers.

Now, in more than forty unique inspirational readings based on excerpts from their story, Todd, and for the first ever Sonja, from her perspective as a mom, share what happened next–in their lives and in millions of others. Through their own experiences, and based on the stories hundreds of readers have shared, they show you how believing heaven is for real helps us survive hardships here on earth, including the death of a loved one or the loss of a child through tragedy, miscarriage, and even abortion. The daily readings provide a powerful reminder that, beyond the hardships we may face in this life, God's incredible gift of heaven awaits us. Imagine being completely fearless on earth because you know that after this life you're going to heaven, and you know, really know, you're going to love it there. That's the promise heaven holds for us.

---
TABLE OF CONTENTS
Introduction: We Interrupt This Program...
Heaven--We're Not There Yet
Missing the Miracles
Watching for God-cidents
Solving the Puzzle
Call Your Dad!
Acquiring a Heavenly Perspective
Forgiveness Is for Real
Thanks for Being Imperfect
A Mixture of Faith and Doubt
Which Way You Gonna Run?
Be Specific!
The Blessing of Friends
Give Anyway
A Journey through Humility
No Secrets
Find Your Own Faith
Lead-Footed Preacher's Wife
Prayers for the Hopeless
Life as a Sermon
It's the People
At Home in Heaven
Heaven--You're Gonna Like It
Heavenly Comforters
Imagine Being Held by Jesus
Connecting through Loss
Waiting at Heaven's Gates
Unforgivable? No!
"But I Had an Abortion..."
Urgent!
Is Your Light On?
The Coach's Challenge
Contagious Faith
A Child's Prayers
A Perfectly Normal Pastor's Family Is Imperfect
"Dad, Jesus Told Me to Tell You"
Realy Loving the Children
Seeing the Face of Jesus
A Family Affair
Asking for and Giving Help
The Battle to Come
Yes, No, and Not Yet
Being Ourselves in Heaven
The Last Word: Heaven Changes Everything
Colton's Prayer For You
About the Authors

---
AUTHOR PROFILE
Todd Burpo is the pastor of Crossroads Wesleyan Church in Imperial, Nebraska (Population: 2,071). He travels and speaks internationally with HIFR Ministries and also continues to serve Imperial on the local volunteer fire department. He is also the chaplain for the Nebraska State Volunteer Firefighter's Association. Todd graduated summa cum laude from Oklahoma Wesleyan University in 1991 with a BA in theology and was ordained in 1994 by the Wesleyan Church.
Sonja Burpo is a busy mom to Cassie, Colton, and Colby and works as a real estate office manager. Sonja also travels and speaks for audiences with HIFR Ministries. With a BS in elementary education from Oklahoma Wesleyan University and a master's in library and information science, Sonja is a certified teacher in the state of Nebraska. She has taught in the public school system both in Oklahoma as well as in Imperial. Sonja is passionate about children's ministry and continues to teach children at Crossroads Wesleyan Church.

---
BOOK SPECIFICATIONS
223 pages, hardcover.
ISBN 9780849948411