Home
About Us
FAQ
Privacy Policy
Contact Us
Books
DVDs
VHS
Charts
Audio Books
General Information
Secure Order Form
Mail & Fax Orders
Shipping Rates

Mastercard
Visa, Discover
* * *
Phone Toll Free:
1-877-577-8743
within U.S.A.
* * *
International
1-336-246-2663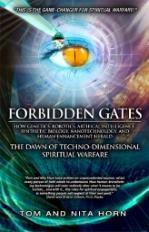 FORBIDDEN GATES
How Genetics, Robotics, Artificial Intelligence, Synthetic Biology, Nanotechnology, and Human Enhancement Herald The Dawn Of Techno-Dimensional Spiritual Warfare

Thomas and Nita Horn, 2010



In recent years, astonishing technological developments have pushed the frontiers of humanity toward far-reaching morphological transformation that promises in the very near future to redefine what it means to be human. An international, intellectual and fast-growing cultural movement known as transhumanism intends the use of genetics, robotics, artificial intelligence and nanotechnology (GRIN technologies) as tools that will radically redesign our minds, our memories, our physiology, our offspring, and even perhaps, as Joel Garreau in his bestselling book Radical Evolution claims, our very souls.

The technological, cultural, and metaphysical shift now under way unapologetically forecasts a future dominated by this new species of unrecognizably superior humans, and applications under study now to make this dream reality are being funded by thousands of government and private research facilities around the world. As the reader will learn, this includes among other things rewriting human DNA and combining men with beasts, a fact that some university studies and transhumanists believe will not only alter our bodies and souls but could ultimately open a door to contact with unseen intelligence.

As a result, new modes of perception between things visible and invisible are expected to challenge the Church in ways that are historically and theologically unprecedented. Without comprehending what is quickly approaching in related disciplines of research and development, vast numbers of believers could be paralyzed by the most fantastic—and most far reaching—supernatural implications. The destiny of each individual—as well as the future of their family—will depend on their knowledge of the new paradigm and their preparedness to face it head on.

---
TABLE OF CONTENTS
Acknowledgments
Foreword by Terry James
Preface: Read First!
Introduction by David Hitt
SECTION ONE
SPIRITUAL WARFARE 101
Your Hidden Enemy
Open Sesame!
Such Beautiful Deception

SECTION TWO
THE BATTLEFIELD UNTIL NOW

Satan's Jurisdiction
Daimonions Inside the Church
Temptation, Influence, Obsession, Demonization, Possession

SECTION THREE
THE EMERGING BATTLEFIELD--READY OR NOT

The Coming Battle... Will Be More than Cosmists vs. Terrans
The Hell Scenario Will Be Nothing to GRIN About
The Spirit Behind Transhumanism

SECTION FOUR
THE "OTHER" SIGNS OF THE DAYS OF NOAH

The Transhuman New Face of Spiritual Warfare
Will You GRIN for the Mark of the Beast?
Those "Other" Signs of the Days of Noah
Notes

---
AUTHOR PROFILES
Thomas and Nita Horn are internationally recognized lecturers, publishers, radio hosts, and best-selling authors of several books, including Apollyon Rising 2012 and Final Mystery of the Great Seal Revealed. Their works have been referred to by writers of the L.A. Times Syncicate, MSNBC, Christianity Today, New Man magazine, World Net Daily, and News Max, as well as by White House correspondents and reporters with dozens of newsmagazines and press agencies around the globe. They have been interviewed by U.S. congressmen and senators on their findings, and have been featured frequently in major media, including top-ten talk shows, America's Morning News for the Washington Times, CBN, and the History Channel.

---
BOOK SPECIFICATIONS
310 pages, paperback.
ISBN 9780984061198