Home
About Us
FAQ
Privacy Policy
Contact Us
Books
DVDs
VHS
Charts
Audio Books
General Information
Secure Order Form
Mail & Fax Orders
Shipping Rates

Mastercard
Visa, Discover
* * *
Phone Toll Free:
1-877-577-8743
within U.S.A.
* * *
International
1-336-246-2663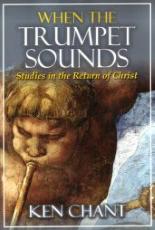 WHEN THE TRUMPET SOUNDS
Studies in the Return of Christ

Ken Chant, 2013


$32.95
Ships within
24 hours!


One entire shelf of my personal library is filled with books on eschatology, about 100 of them, representing a daunting array of "schools" of Bible Prophecy, each with its own ideas of what will happen in the "last days", the time just before and just after the Second Coming of Christ. One would have to be braver than I to insist that a new book presents the final solution of the question! Indeed, I haven't so much as tried to present a definitive system of eschatology - that is, the study of the last things. What this book does attempt, without endorsing or denying any of the diverse schools, it to draw a picture of all that the Bible definitely affirms about the glorious hope of the church, which is the return of the Saviour to establish the eternal Kingdom of God. Are there signs of his coming that we can observe? How will he come? What will be the result? When and how will the church be raptured? What judgments will occur? All these questions, and many others, are raised in these pages, and are answered, your author hopes, sensibly from scripture. But there's only one way to find out. Read the book yourself!

---
TABLE OF CONTENTS
One PROMISE
Two PROOF
Three IMMINENCE
Four TIME
Five INDICATIONS
ADDENDUM
Six SCHOOLS
Seven METHOD
Addendum SEEMINGLY UNFILLED ORACLES
Eight RESURRECTION
Nine RAPTURE
Ten IMMORTALITY
Eleven HADES
Twelve TOMORROW
Thirteen BEMA
Fourteen JUDGMENT
Addendum - ON HELL DOLEFUL DUNGEONS OF DARKNESS!
Fifteen ETERNITY
Addendum THE "SEVENTY WEEKS" PROPHECY
PART TWO ORACLES GALORE!
SOOTHSAYERS EVERYWHERE!

---
AUTHOR PROFILE
Dr Ken Chant is an Australian who began his ministry in 1952 as an assistant pastor in two Baptist churches in Adelaide. He was ordained in Melbourne in 1954, as a pastor in the CRC Churches International, so he has been actively involved (as of 2009) in Christian ministry for 55 years (ten of which he and his family spent in the USA). Ken is currently the director of Vision Christian College for Australia. He is also the author of more than 40 books, including many college texts. In addition he has written large amounts of curriculum material, lecture notes, and scores of magazine articles. He is the composer of several choruses that have been published in various collections, notably Fill My Eyes and Be Glad Ye Sons of Zion. Although committed to the Pentecostal movement, Ken has always been ecumenical rather than parochial, and he has often ministered in other denominational settings. Hence the students enrolled in one or other of the Vision Christian College programmes come from a wide array of churches and denominational backgrounds. In 2009, Ken and his wife Alison (who herself has a master's degree in Christian counselling, and is a sought-after speaker) celebrated their 55th wedding anniversary. They have four children and twenty-one grandchildren.

---
BOOK SPECIFICATIONS
382 pages, paperback, bibliography.
ISBN: 9781615290956