Home
About Us
FAQ
Privacy Policy
Contact Us
Books
DVDs
VHS
Charts
Audio Books
General Information
Secure Order Form
Mail & Fax Orders
Shipping Rates

Mastercard
Visa, Discover
* * *
Phone Toll Free:
1-877-577-8743
within U.S.A.
* * *
International
1-336-246-2663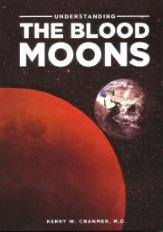 UNDERSTANDING THE BLOOD MOONS

Kerry W. Cranmer, M.D., 2014


$7.95
Ships within
24 hours!


As darkness fell across the globe on April 15, 2014, millions of people around the world turned their eyes toward the darkening night sky, anxious to see a Blood Moon fill the heavens. But this was no ordinary Blood Moon. The Blood Moon appeared on the Feast of Passover, and was just the beginning of a rare astronomical event in history - the tetrad. According to NASA, the next Blood Moon in the tetrad will appear on October 8, 2014, during the Feast of Tabernacles. What does this mean, and why is this significant? Why does the Blood Moon look so red? Why are the Blood Moons mentioned in the Bible as a sign of the end times? Has this ever happended before, and will it happen again? Understanding The Blood Moons will answer these questions and more, and will help you discover the historical and biblical significance of this unfolding event. This easy-to-understand presentation of the Blood Moon tetrad phenomenon will bring new insight as you explore this mystery of the heavens and its relevance to the times in which we live.

---
TABLE OF CONTENTS
Introduction
The Science
The History
What Does the Bible Say?
Popular Speculation

---
AUTHOR PROFILE
Kerry W. Cranmer, M.D., lives in Oklahoma City, Oklahoma, where he has been a practicing physician for more than thirty years, twenty years in Geriatrics. He has also been an avid student of the Bible for more than forty years. Dr. Cranmer speaks nationally and internationally and has published numerous articles in medical journals and has been quoted in many others.

---
BOOK SPECIFICATIONS
80 pages, paperback.
ISBN 9781939570406