Home
About Us
FAQ
Privacy Policy
Contact Us
Books
DVDs
VHS
Charts
Audio Books
General Information
Secure Order Form
Mail & Fax Orders
Shipping Rates

Mastercard
Visa, Discover
* * *
Phone Toll Free:
1-877-577-8743
within U.S.A.
* * *
International
1-336-246-2663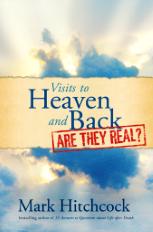 VISITS TO HEAVEN AND BACK: Are They Real?

Mark Hitchcock, 2015


$14.95
Retail $15.99
Ships within
24 hours!


What will heaven really be like?
Today's bestseller lists are filled with stories of those who have claimed to experienced heaven firsthand. Curiosity about what will happen after we die is as strong as ever in the twenty-first century. Yet, each book contains a different story about what we will experience in heaven.
What are we to believe? What is true?
In Visits to Heaven and Back: Are They Real? Mark Hitchcock, a respected Bible teacher, sorts out the facts. He chronicles the recent phenomenon of "heaven" books, comparing and contrasting the ideas presented in these books and revealing the discrepancies and contradictions. Then, Mark turns to the Bible, laying out clearly the teachings about heaven and experiences in this life of another world. The Bible does reveal that there is a world beyond this one, but it also contains clear warnings and amazing promises. Discover today God's clear and certain promises concerning heaven.

---
TABLE OF CONTENTS
Introduction: We Interrupt This Program...
Heaven Can't Wait
The ABCs of NDEs
"I Thought I'd Died and Gone to Heaven"
Your Best Afterlife Now
Dead Wrong
Heaven Is for Real--Is It for Real?
Trouble in Paradise
To Hell and Back
What Is Heaven Like?
How to Be Dead Right
Appendix 1: Answers to Common Questions about Death and Heaven
Appendix 2: Recommended Books on Heaven and the Afterlife
Appendix 3: Scripture Passages about Heaven
Notes

---
AUTHOR PROFILE
Attorney Mark Hitchcock thought his career was set after graduating from law school in 1984. But Mark changed course when he felt a clear call to ministry. He went on to Dallas Theological Seminary instead, completing a master's degree in 1991 and a doctoral degree in 2006. Since 1991 Mark has served as senior pastor of Faith Bible Church in Edmond, Oklahoma. He has authored more than fifteen books. He and his wife, Cheryl, live in Edmond, Oklahoma, with their two sons.

---
BOOK SPECIFICATIONS
221 pages, paperback, appendix.
ISBN 9781496404824