Home
About Us
FAQ
Privacy Policy
Contact Us
Books
DVDs
VHS
Charts
Audio Books
General Information
Secure Order Form
Mail & Fax Orders
Shipping Rates

Mastercard
Visa, Discover
* * *
Phone Toll Free:
1-877-577-8743
within U.S.A.
* * *
International
1-336-246-2663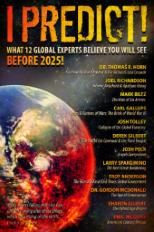 I PREDICT!: What 12 Global Experts Believe You Will See Before 2025!

Thomas Horn, 2016


$19.95
Ships within
24 hours!


Over the last few decades, celebrated theorists and philosophers have increasingly contemplated the future of humanity through a predictive lens the meaning and purpose of our existence in light of the Bible s end-times narrative. Is it possible that ancient prophets actually foresaw how the world would come to an end and how final salvation including judgment of the nations would precisely transpire? In this wide-ranging and authoritative work, recognized experts from around the globe examine extraordinary developments currently playing out in geopolitics, science and technology, discovery, and even the supernatural, under the microscope of Scripture. The magnitude of individual choices and opportunities that lie just ahead, these experts say, will soon impact all of our lives in unprecedented ways.
NOW, FOR THE FIRST TIME, IN I PREDICT YOU WILL...
Discern the facts behind whether the Ark of the Covenant has been found
Learn about the Final Roman Emperor and the Vatican s Last Crusade
Finally understand the truth behind the Islamic Mahdi and the secrets of Apollyon
Witness efforts now underway that could lead to the Third Jewish Temple
Discover a hidden agenda that may force mankind into an epic World War
Determine how to prepare for a coming global monetary collapse
Read why some believe we are about to witness angels everywhere
Study the phenomenal prediction involving the next Great Awakening
Examine the case for a coming Global World Government
Grasp the arrival of amazing technology that will transform literally everything
Contributing authors: Dr. Thomas Horn, Joel Richardson, Mark Biltz, Carl Gallups, Josh Tolley, Derek Gilbert, Josh Peck, Larry Spargimino, Troy Anderson, Dr. Gordon McDonald, Sharon Gilbert, Paul McGuire

---
TABLE OF CONTENTS
The Final Roman Emperor and the Vatican's Last Crusade
By Dr. Thomas R. Horn
Islamic Antichrist and Apollyon Rising
By Joel Richardson
The Man of Sin Arrives
By Mark Biltz
Wars and Rumors of Wars: The Brink of World War III
By Carl Gallups
Collapse of the Global Economy
By Josh Tolley
The Ark of the Covenant and the Third Temple
By Derek Gilbert
Angels Everywhere
By Josh Peck
The Next Great Awakening
By Larry Spargimino
The Rise of a Final End-Times Global Government
By Troy Anderson
The Age of Convergence
By Dr. Gordon McDonald
The Hybrid Age Begins
By Sharon Gilbert
American and Coming Revival
By Paul McGuire
Notes

---
BOOK SPECIFICATIONS
327 pages, paperback.
ISBN 9780996409551