Home
About Us
FAQ
Privacy Policy
Contact Us
Books
DVDs
VHS
Charts
Audio Books
General Information
Secure Order Form
Mail & Fax Orders
Shipping Rates

Mastercard
Visa, Discover
* * *
Phone Toll Free:
1-877-577-8743
within U.S.A.
* * *
International
1-336-246-2663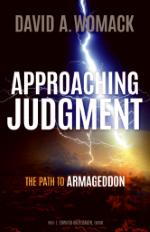 APPROACHING JUDGMENT
The Path to Armageddon

David A. Womack, 2016


$14.95
Ships within
24 hours!


The author states, "The whole purpose of this book is to ask: What did John really say in the Book of Revelation? Let's cut out all the misinterpretations caused by human supposition and intuition based wrongly on passing current events and sensationalism and just ask what John's original text means?" God wants us to understand the Book of the Revelation. The word "revelation" connotes revealing rather than concealing. In a clear, logical way, David Womack explains the symbols within the Book of Revelation with a minimum of speculation about them. The writing is clear, and it follows the Book of Revelation step by step through each chapter. At the end of each chapter in Approaching Judgment there is a summary that reinforces the main points covered. This book provides the reader with a well-documented look at one of the most complex books in the Bible.

---
TABLE OF CONTENTS
Preface
Introduction: Two Steps to Revelation
Four Hidden Keys: John's Introduction
Seven Churches of Asia Minor: How They Apply to Us Today
God's Throne Room: A Courtroom Scene
The Lion and the Lamb: The Heavenly Prosecutor
Seven Seals: God's Charges Against the World
First Intermission: Rapture of the Church
Seven Trumpets: Beginning of the Wrath of God
Second Intermission: Thunders, Scroll, and Two Witnesses
The Woman and the Dragon
Two Opposing Kingdoms
Seven Bowls of Wrath
Ballad on Babylon
Armageddon and Millennium
Eternal Life to Come
Closing Remarks

---
AUTHOR PROFILE
David A. Womack received both his Batchelor's degree and Master of Arts Degree in Theology at Northwest University, Kirkland, Washington. He was a minister with the Assemblies of God and wrote numerous books, this being the last one before he died.

---
BOOK SPECIFICATIONS
226 pages, paperback.
ISBN 9781610361460