Home
About Us
FAQ
Privacy Policy
Contact Us
Books
DVDs
VHS
Charts
Audio Books
General Information
Secure Order Form
Mail & Fax Orders
Shipping Rates

Mastercard
Visa, Discover
* * *
Phone:
1-890-434-5708
* * *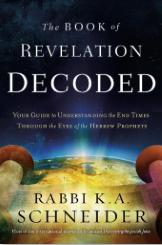 THE BOOK OF REVELATION DECODED
Your Guide to Understanding the End Times Through the Eyes of the Hebrew Prophets

Rabbi K.A. Schneider, 2017


$14.95
Retail $15.99
Ships within
24 hours!


Rabbi K. A. Schneider decodes the Book of Revelation, showing how the end-time events prophesied in the New Testament book correspond with the teachings of the Torah and the Hebrew prophets. You will discover how the Passover foreshadows the great tribulation, and what the Hebrew prophets reveal about the anti-Messiah, Armageddon, hell, the return of the Messiah, the millennial kingdom, heaven, and much more. As the world grows darker and darker, many people have a sense of impending doom. This book will teach you what to expect during the last days and how to stand firm in Christ even in the face of opposition. 238 pages, paperback.


---
TABLE OF CONTENTS
Special Thanks
Foreword by Mike Bickle
INTRODUCTION: The Revelation
Jacob's Trouble: From Turmoil to the Great Tribulation
When the Antichrist Will Rise
How the Antichrist Will Rise
God's Wrath
The Rapture
Armageddon and the Messiah's Return
The Marriage Between God and His People
All Israel Will Be Saved
God's Judgments and Rewards
The Reality of Hell
The Millennial Reign of the Messiah
The New Heaven and the New Earth
Notes
About the Author

---
AUTHOR PROFILES
Rabbi K. A. Schneider is an international evangelist who serves as rabbi of Lion of Judah World Outreach Center. He is the host of the international television broadcast Discovering the Jewish Jesus (www.DiscoveringTheJewishJesus.com) and the author of Self-Deliverance, Do Not Be Afraid, and Awakening to Messiah. He and his wife, Cynthia, live in Ohio.

---
BOOK SPECIFICATIONS
238 pages, paperback.
ISBN 9781629991092