Home
About Us
FAQ
Privacy Policy
Contact Us
Books
DVDs
VHS
Charts
Audio Books
General Information
Secure Order Form
Mail & Fax Orders
Shipping Rates

Mastercard
Visa, Discover
* * *
Phone Toll Free:
1-877-577-8743
within U.S.A.
* * *
International
1-336-246-2663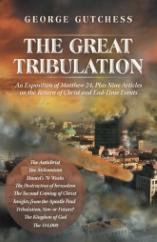 THE GREAT TRIBULATION
An Exposition of Matthew 24, Plus Nine Articles on the Return of Christ and End-Time Events

George Gutchess, 2014


$24.95
Ships within
24 hours!


Many Bible teachers today are proclaiming that Christ will come at any moment to take the Christians to heaven, leaving the non-Christians behind to endure seven years of great tribulation. Others teach that Christ came spiritually in AD 70, when the city of Jerusalem was destroyed by the Romans. Is there any other view? Here is an older interpretation that was commonly held before those which prevail today. The first part of The Great Tribulation is a verse-by-verse commentary on Matthew 24 written in readable, nontechnical style. The second part of the book contains nine articles related to the second coming of Christ and end-time events. The Great Tribulation provides insight on these questions: What does Matthew 24 really teach? Will Christ's coming be in two stages? Does Daniel teach that there will be a seven-year tribulation? Who is the antichrist, and will he appear in a rebuilt temple? What is the "abomination of desolation"? Was the kingdom of God postponed? Will there be a thousand-year period called the millennium? Will some be taken and others left behind? What is the generation that Christ spoke of that is going to see it all? View: Classic Historic Premillennialism

---
TABLE OF CONTENTS
Preface
Introduction - The Key to Understanding the Chapter
Christ Predicts the Destruction of Jerusalem (vv.1-2)
The Disciples' Questions (v. 3)
How Christ Answered the Disciples' Questions
The Last Days - The Days in Which We Live (vv. 4-14)
The Destruction of Jerusalem (vv. 15-22)
The Last Days - The Days in Which We Live (vv. 23-31)
The Destruction of Jerusalem (vv. 32-35)
The Last Days - The Days in Which We Live (vv. 36-42)
Parables on the Return of Christ (vv. 43-51)
Appendix
Excursus on 2 Thessalonians 2:1-10
Excursus on the Antichrist
Excursus on a Rebuilt Temple
Excursus on the Kingdom of God
Excursus on Daniel's 70 Weeks
Excursus on the "Great Tribulation"
Excursus on the 144,000 and the "Israel of God"
Excursus on the Millennium
Excursus on a Text Similar to Verse 34 About Some Not Passing Away
Bibliography

---
AUTHOR PROFILE
George Gutchess has degrees in psychology, education, and theology. He is an ordained clergyman and certificated school teacher. He has attended educational seminars in Israel and made a missionary trip to Pakistan. Now retired, he lives in Upstate New York, not far from a church he pastored for thirty years.

---
BOOK SPECIFICATIONS
222 pages, paperback, bibliography.
ISBN 9781490835211