Home
About Us
FAQ
Privacy Policy
Contact Us
Books
DVDs
VHS
Charts
Audio Books
General Information
Secure Order Form
Mail & Fax Orders
Shipping Rates

Mastercard
Visa, Discover
* * *
Phone Toll Free:
1-877-577-8743
within U.S.A.
* * *
International
1-336-246-2663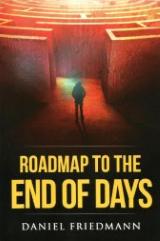 ROADMAP TO THE END OF DAYS
Demystifying Biblical Eschatology to Explain the Past, the Secret to the Apocalypse and the End of the World

Daniel Friedmann, 2017


$15.95
Ships within
24 hours!


Is history a purposeful process with a beginning and an end, or is it a random series of events with neither purpose nor direction? If history is a guided process, are we near the end of the world?Have we almost completed preparations for the End of Days? What will happen next? When? Are we backseat passengers in this journey, or are we in the driver's seat? Daniel Friedmann takes you on a journey to discover what is really going on with Biblical eschatology and the end of the world, and to then glimpse the future and ponder the role you will play in it. History is a discipline that uses a narrative to examine and analyze a sequence of past events and to objectively postulate the patterns of cause and effect that determined them. Friedmann looks at history from the supernatural perspective. Every plan becomes suddenly evident when enough of it has played out. Have we reached the point in history where the Divine Plan of history is apparent? Read Roadmap to the End of Days and discover what is really going on, then glimpse the future and ponder the role you will play.

---
TABLE OF CONTENTS (Abridged)
A Note From the Author
Acknowledgments

Introduction
The Cosmic Purpose and the Struggle to Achieve It
The Messianic Era
The Universal Timeline
The Rhythm of History: Looking Back
Looking at Recent History
Disclaimer
Looking Forward--The End of Days
The World to Come
Conclusion--Where to From Here?
Appendix A - Overview Historical Timeline
Appendix B - The Specific Pattern of History - Elaboration
Appendix C - Ramban on World History
Glossary
Endnotes
Index
Figures
Tables

---
AUTHOR PROFILE
Daniel Friedmann, P.Eng., M.A.Sc. studies the origin of the universe and life on earth. He is a Readers' Favorite International Book Award Winner and National Indie Excellence Awards finalist. He was the CEO of a global technology company for 20 years and is a student of religion. His work on reconciling the biblical account with scientific observation, using his biblical clock formula, has been reported in conferences, newspapers, and magazines, as well as television and radio programs. He is also the author of The Genesis One Code and The Broken Gift.

---
BOOK SPECIFICATIONS
180 pages, paperback, appendix, index.
ISBN: 9780978457235